There are numerous search engines available for us to use, and the best ones always have an edge over the others. According to web traffic analysis tool StatCounter, Google Chrome has been the most used browser globally in August 2016. It had a market share of 62%, and if you belong to that segment of people, its time you personalise your Google Chrome for better productivity and time management.
Google Chrome Store offers innumerous extensions, which can change the way we browse the internet. TechCircle.in has listed down six such extensions that help you save time and make life simpler.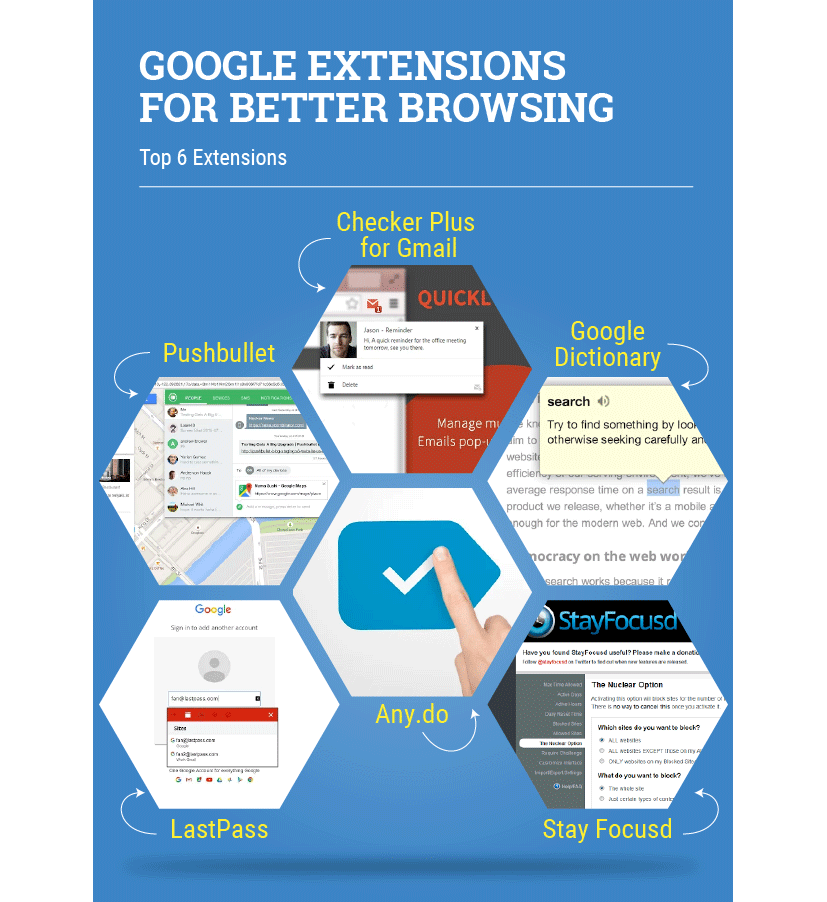 Pushbullet: If you are someone who juggles between your phone and computer a lot, Pushbullet is a must-have extension for you. This extension allows you to connect your phone to your PC and view all your phone notifications on your computer screen. It also allows you to attend calls and use the computer keyboard to reply to text messages that you receive on your phone.
Checker Plus for Gmail: Juggling between several e-mail accounts? This one is for you. This Google Chrome extension allows the users receive desktop notifications, read, listen or delete e-mails without opening the Gmail account. This Chrome extension also has interesting features including voice notifications for mails.
Google Dictionary: If you spend majority of your time reading online, exploring new and powerful content then this Google Chrome extension can make your life easier. This extension allows users to double-click on words to view its definition in a small pop-up bubble. It also gives users an option to save history of words for future use. The extension also translates words into language of users' choice for easy lookup.
Any.do: This Chrome extension will help you organise your life. It allows users a plethora of options including tasks, to-do lists and the popular moment feature. The good news is that all your tasks can be synced across various devices.
Stay Focusd: This Chrome extension is built for users who often lose focus and sway away to other websites resulting in low productivity. Stay Focusd restricts users from spending time on websites that distract them. If you have already spent the allotted time, the websites become inaccessible for the rest of the day. Users can configure websites, pages and content according to their choice.
LastPass: This Chrome extension lets users save login information and passwords for different websites and gain access to everything using just one LastPass master password. Talking about the security, the company says that all the sensitive user data is encrypted and decrypted locally on user's machine and only encrypted sensitive information is synced with LastPass.
Like this report? Sign up for our daily newsletter to get our top reports.
---