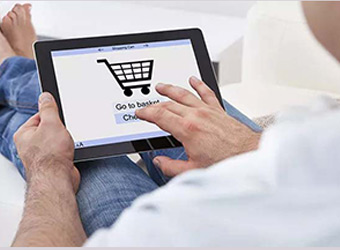 At a time when stakeholders in the Indian e-commerce industry were locked in an intense debate over who between Amazon and Flipkart will emerge the winner post the upcoming festive season, the development that the world's largest retailer Walmart is in the process of picking up an equity stake in Flipkart has changed the course of the conversation.
"If it happens (Walmart picking a stake in Flipkart), it will be a big move that will certainly benefit Flipkart against the competition," said Harminder Sahni, founder and managing director, Wazir Advisors, a retail consulting firm.
Flipkart, so far, led the e-commerce market in India beating rivals that included another homegrown player Snapdeal as well as the world's largest e-commerce company Amazon. Its biggest strength was the first mover advantage it had over the rivals.
Maintaining the leadership, however, was turning out to be challenging, of late.
With the blessings of its deep-pocket parent ($2 billion already invested and $3 billion more committed), Amazon India has been making fast inroads into the market and Flipkart's inability to raise fresh funds and continued high cash burn was increasingly making its position as the market leader untenable. So much so that most observers in the industry were predicting that the pecking order might change post the festive season with Amazon emerging the eventual winner in India.
This, however, might not become a reality if Walmart, indeed, picks a stake in Flipkart.
Both Walmart India spokesperson and Flipkart did not respond to email queries sent by TechCircle saying as a policy they don't comment on rumours or speculations.
What is in it for Flipkart?
On the face of it, it makes eminent sense for Flipkart to shake hands with Walmart. The world's largest company's strengths as an offline retailer alongside its access to smart technology and 'real time pricing algorithm' it now owns post the acquisition of Jet.com, can help Flipkart strengthen its game in India. The technology helps in reducing prices of products in real time based on various factors including the number of products and the distribution centres. This has the potential to revolutionize the prevailing customer experience and pricing patterns in the Indian e-commerce industry where deep discounting has become the bane for most companies.
But all this is in the long run.
The immediate reprieve that Flipkart is likely to get out of the proposed tie-up with Walmart is access to much-needed funds. According to media reports, Flipkart has not been able to raise funds since last year because of difference of opinion with regards to its valuation with prospective investors. Fresh funds will help the company sail through for some more time after the much-awaited festive season, which is likely to leave most e-commerce players bruised given that deep discounting is still the route they are taking to woo customers.
Indeed, the new FDI rules do not allow e-commerce marketplaces to directly offer discounts to customers, but the incumbents in the market are offering financial incentives to help sellers on their platforms to offer deep discounts to customers.
For Flipkart, partnering with Walmart has many positives to it. "But the question is - will the investors, who see Flipkart as the Amazon of India, agree to it," asks Sahni, adding: "No one wants to let go. If that was the case, Flipkart would have given in to Amazon a year ago. Snapdeal is not giving up. Alibaba is gearing up."
Flipkart's current valuation may be another reason for investors to hesitate in parting with the equity in the company. The company suffered seven successive markdowns with some of its investors placing the e-commerce company's valuation at less than $10 billion in comparison to $15.2 billion valuation it commanded till September last year, which was based on its last funding round in mid-2015.
For Walmart, however, it makes eminent sense to pick up a stake in Flikpart now.
What is in it for Walmart?
Besides picking a stake in Flipkart at a reasonable valuation, the tie-up will have other advantages for Walmart. To begin with, it will get a toe-hold in the world's most attractive e-commerce market. Walmart, for whom online retailing is a clearly a missing link in its larger business plans, the partnership will help it hoist its flag in the Indian e-commerce space. If it were to do that alone, it might take the company years to do so.
To be sure, Walmart has been present in India for almost a decade now. It had entered into a 50-50 joint venture with Sunil Bharti Mittal's Bharti Enterprises but in 2013, it bought out its partner and decided to go solo.
The e-commerce market is expected to double to Rs 2,11,005 crore by December this year, according to the estimates of IAMAI (Internet & Mobile Association of India) and IMRB International. The e-commerce market grew 30% between December 2011 and December 2015, making it very attractive for those wanting to set foot here.
Besides Walmart, there are other players queuing to get a share of this pie. China's Alibaba, which has a market cap of $258.01 billion, is likely to make some big moves here sooner than later. "We are planning to enter the e-commerce business in India in 2016. We have been exploring very carefully the e-commerce opportunity in this country, which we think is very exciting on the backdrop of Digital India," Alibaba Group president J. Michael Evans had said earlier this year.
Then there is Japan's Rakuten, which is said to be evaluating the Indian market.
In this backdrop, this might be the right time for Walmart to enter India and partner with the country's largest e-commerce company.
Like this report? Sign up for our daily newsletter to get our top reports.
---