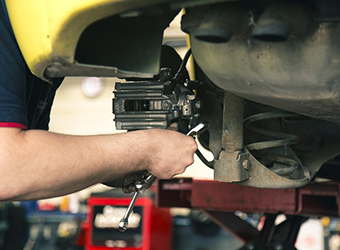 Deepak Nathani, co-founder of technology consulting firm Cybage Software Pvt. Ltd, has acquired a 20% stake in automotive services startup Demyto for an undisclosed amount.
The Pune-based firm, which operates via a web platform and an app, will use the money to expand its services to Bengaluru and Mumbai and on marketing, Demyto co-founder Kaustubh Konkar told TechCircle. Nathani will also mentor the team at Demyto, he added.
Launched in March 2015, the company provides after-sales services and accessories for cars, bikes and heavy vehicles. The firm operates as a marketplace by tying up with local dealers and offers their services to customers through its technology-enabled platform and app.
Initially, the firm offered its services to B2B companies such as taxis and tour operators. In October last year, it started focusing on the B2C sector by providing car insurance and a month later it began providing servicing options for car users.
Demyto earns revenue from servicing packages that it offers customers. It shares part of that amount with the service centres. The firm says it uses an algorithm to capture servicing-related data that can provide cost benefits to consumers.
The firm was launched by Konkar, Rajendra Rade and Ulhas Pandit. Konkar looks at marketing while Rade, an expert in data analytics and warehousing, oversees IT functions. Pandit oversees operations and acts as the liaison between Demyto and the service stations. Konkar has 10 years of experience in the manufacturing, consumer goods and retail segments. Rade has about 12 years of IT experience while Pandit has experience in automotive operations.
Demyto is among a number of startups that have sprung up in the after-sales servicing sector, an extremely fragmented segment, in the country.
Earlier this month, online classifieds firm Quikr acquired Stepni, which connects vehicle owners with service providers. With this acquisition, Quikr is looking to grow its automobiles vertical, QuikrCars.
In May, Bengaluru-based Let's Service raised angel funding from QuEST Global chief operating officer Ajay Prabhu and Julia Computing Inc co-founder Deepak Vinchhi. The firm provides servicing for bike- and scooter-owners at authorised service centres.
The same month also saw Mumbai-based MotoMojo secure angel funding from the founders of startup enabler VentesAvenues. The firm connects owners of two- and four-wheelers with service stations through its mobile app.
Car maintenance marketplace Zonnett has also been looking to raise a Series A round of funding. The firm was launched in August 2015 and offers its services through a mobile app and a website. It has tied up with 110 workshops in Mumbai and Pune.
Like this report? Sign up for our daily newsletter to get our top reports.
---