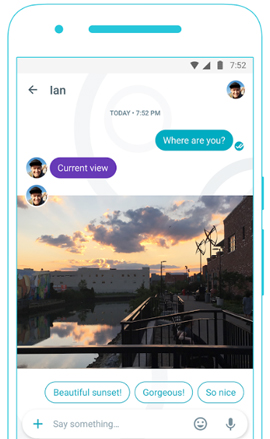 Google Allo was launched in September and in just 10 days it has crossed the 5 million downloads mark on Play Store. Google Allo is a messaging app, which competes with the likes of Facebook Messenger, WhatsApp and iMessage. The main difference is that Allo comes with some machine learning built in, courtesy of Google Assistant, the company's virtual assistant.
Understandably, it has been a huge success. Its competitors, WhatsApp, Facebook Messenger and iPhone messenger might have to find ways to maintain their existing user base and not lose them to Google's Allo.
Very recently, Facebook-owned WhatsApp rolled out a 'Shareable Links' feature to invite new users to a group in an update to the beta version of its app. Evidently, with India as the largest market for Google, Allo, WhatsApp, FB Messenger will battle it out in the near future.
Google's love for India is not unknown. India is the third largest internet user after China and US. The Telecom Regulatory Authority of India (TRAI) pegged the number of Internet subscribers in India at 164.81 million as of March 31, 2013, with seven out of eight accessing the Internet from their mobile phones.
Going by the population size too, India ranks second with 1.32 billion people against China's 1.38 billion. For Google to operate in a closed market like China is not feasible as it's all about numbers for this player. With the rapidly growing internet users in India, Allo knows the market to tap.
Google has launched many products that are aimed to cater to the Indian population. It launched Android One phones in India first, followed by a free Wi-Fi programme for high-speed internet, a custom version of YouTube for India, YouTube Go and Google today announced that it will open a new Google Cloud Region in Mumbai. Expected to be live in 2017, the India cloud region is aimed at offering Google Cloud Platform services to Indian developers and enterprise customers.
Many observers have remarked that Google Allo has been designed keeping in mind India's needs. Allo does not support Google account logins or even using multiple devices. Simply put, it has no version for desktops, tablets or web.
The single-device limitation is a deal-breaker for many in developed countries. According to statistics on Google Public Data, as of March 2015, the US and UK average connected device per adult is 3.3. Whereas in India, it's as low as 0.8 connected devices per adult. So while Google has decided not to allow multiple-device usage unlike Hangouts or Facebook Messenger, it is focussed on the developing and rapidly growing Indian internet users.
With Google being so India friendly, Allo must, by all means be a product to disrupt the messaging app market. While some experts have given great reviews, calling the personal assistant 'cool' and 'smart', some have also expressed concerns about the same.
NSA whistle-blower, Edward Snowden described Allo in a tweet as, "A Google app that records every message you ever send and makes it available to police on request."
As Google unveiled Allo, it explained how one could expect end-to-end encryption incognito mode and that the storing of messages would be ephemeral. A move that would help Google Assistant to be more accurate and intelligent.
Once launched, users gathered, that all messages not using Allo's built-in incognito mode will indefinitely be stored in Google's servers.
For example, in a conversation on Allo, if a user mentions the word 'cafe', Google Assistant will immediately list the cafes in the area. However, if one choses to chat with the Incognito mode on, Google Assistant is unavailable. Therefore, if one choses to keep the conversation private with end-to-end encryption, one cannot use Assistant.
So is Allo worth being used? Yes it is! While most would be concerned about storing of data exchanged on Allo, one can manually delete the messages that are being stored on Google's servers when not using incognito mode. However, Allo's terms of service state that it can turn over any data if they receive a lawful warrant against any user. With all messages stored indefinitely on Google's servers, unless deleted manually, law enforcement will have direct access to them.
With a few voices rising over why Google had not made Incognito as the default mode, probably, Facebook Messenger, WhatsApp or Telegram will be the answer to that.
Like this report? Sign up for our daily newsletter to get our top reports.
---