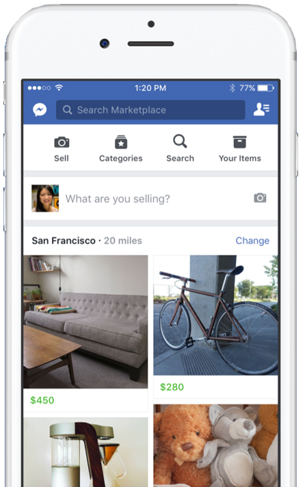 Social networking giant Facebook Inc. is taking a deeper plunge into ecommerce business with the launch of a new tool christened Marketplace where its 1.71 billion users can buy and sell items from people in their locality, the company said in a blog post on October 3.
With Marketplace, Facebook is attempting to organize the already popular but scattered buying and selling activities on its platform. The company claims that more than 450 million people visit the buy and sell groups on Facebook each month.
"Marketplace makes it easy to find new things you'll love, and find a new home for the things you're ready to part with. We'll continue to build new options and features to make this the best experience for people," Facebook said in the official blog post that announced the launch of Marketplace.
Marketplace's integration with Facebook Messenger on the mobile app will help users take the anonymity away from people they are dealing with. This will give Facebook a tremendous advantage over other classified ads sites such as Craiglist and peer-to-peer online marketplaces such as eBay. It is not surprising then that Marketplace is being seen as a rival to both these established platforms.
How does Marketplace work?
A tap on the Marketplace icon, which will shortly appear at the bottom of the Facebook mobile app, will open up a screen of items that people nearby have posted for sale. Users can filter their search by location, category or price. With the built-in location tool, users can adjust the region they are looking in, or switch to a different city altogether.
Upon finding something interesting, users can tap on the image to see more details from the seller, including a product description, the name and profile photo of the seller, and their general location. If the user decides to buy an item, she can send the seller a direct message from Marketplace to make an offer. From that point on, buyer and seller carry on the transaction as they choose.
Facebook does not facilitate the payment or delivery of items in Marketplace, the blog post said.
To sell an item, users need to upload an image of the product with a product name, description and price, confirm location and select a category.
Facebook has long been attempting to win local commerce beginning with its first shot at Marketplace in 2007, a similar feature which targeted classified listings. The experiment, however, didn't bring the desired success and Facebook handled the control of the feature over to Oodle, an online-classifieds provider that ran Marketplace. Oodle was later acquired by QVC, the US-based home shopping broadcast network.
Last year, Facebook started testing "For Sale" post option to groups, which became popular. Buoyed by the success, Facebook later launched Local Market which led the way to the creation of Marketplace.
Like this report? Sign up for our daily newsletter to get our top reports.
---