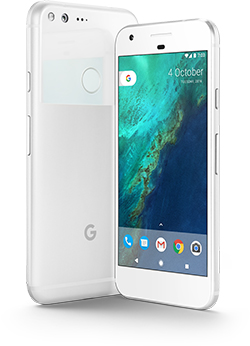 US tech giant Alphabet Inc has unveiled its much-anticipated Google-branded Pixel smartphones. The two phones—Google Pixel and Google Pixel XL—will now be available in India at a starting price of Rs 57,000, with pre-orders beginning from 13 October, according to the official Google Blog.
Google has tied up with India's biggest e-commerce firm Flipkart for the devices' online sale. The handsets, however, will also be available in offline stores such as Reliance Retail, Croma and Vijay Sales. India is one of the six countries where the phones will be available initially.
Flipkart is fast emerging as a preferred partner for phones launches in India. Last week, Flipkart tied up with Apple Inc. to sell its recently launched iPhone 7 and iPhone 7 Plus phones in India.
Flipkart set up a separate landing page for the new Apple devices and started receiving orders from September 29. Officially, the iPhone 7 and iPhone 7 Plus will hit the stores on 7 October in India.
Google Pixel, Google Pixel XL
Google Pixel and Google Pixel X will be available in 32 GB and 128 GB models with Google Assistant (similar to iPhone's Siri) and virtual reality applications.
The phone comes with 2.5D Corning Gorilla Glass 4 on the front display and back glass to accent the aerospace grade aluminium body, according to the blog. Google claims that the phone can be charged up to seven hours in 15 minutes.
The 5-inch Pixel comes at $649 and the 5.5-inch Pixel XL comes at $769. The prices are same as Apple's iPhone 7 and iPhone 7 Plus. Google is expected to challenge Apple's dominance in the smartphone space in the US.
The phones have 4GB of RAM, a Qualcomm Snapdragon 821 processor, a fingerprint sensor and rear facing camera with 12MP. They run on Google's most recent mobile operating system—Android 7.1 Nougat.
The phones are available globally in three colours—black, silver and blue.
Till now, Google has been tying up with smartphone manufacturers such as Huawei, LG, Samsung, HTC and Motorola for its range of Nexus phones, which uses its own Android operating system.
Pixel will be an exclusive Google brand like Google Pixel C tablet and Google Pixel Chromebook. The company calls it the "first phone made by Google inside and out."
Google also unveiled its new content streaming device called Chromecast Ultra. This gadget supports 4K streaming on TV from users' computers or mobile devices.
At an event in San Francisco, Google also launched its new virtual reality headset Daydream View. The customer can use a hand-held remote to operate what is happening on his/her phone.
Google gave a sneak peek into Google Home, its voice-controlled smart speaker, as well. The device will take on the recently launched Amazon Echo.
Like this report? Sign up for our daily newsletter to get our top reports.
---