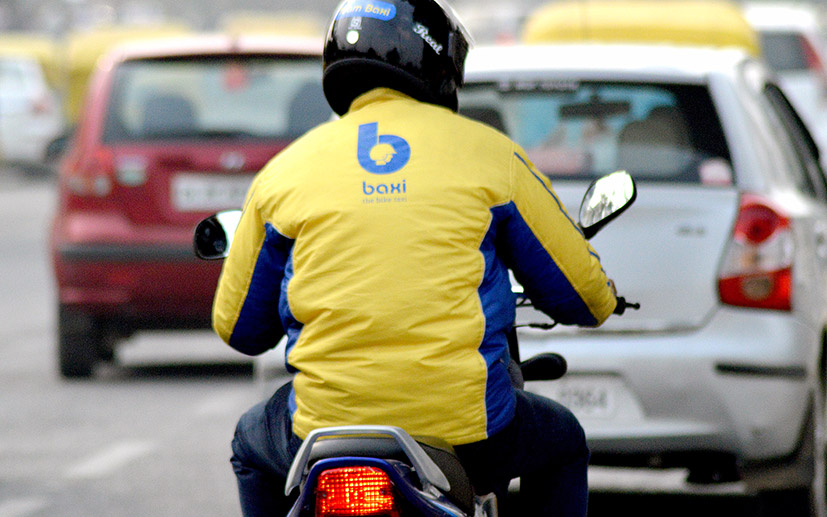 Gurgaon-based 74 BC Technologies Pvt. Ltd, which runs on-demand motorcycle taxi service Baxi, plans to add 10,000 two-wheelers this financial year.
For this, Baxi has tied up with Fairassets Technologies which runs Faircent, a peer-to-peer (P2P) lending company, to facilitate easy loans for individuals who wish to purchase new bikes, with down payments starting from Rs 5,000.
Baxi's app aggregates two-wheelers, similar to taxi aggregators Uber and Ola. Uber and Ola also run bike taxis in the National Capital Region, named Ola Bike and UberMoto, respectively.
Ashutosh Johri, co-founder and chief executive of Baxi, told Techcircle.in that they have tied up with motorcycle manufacturers such as Suzuki and Bajaj Auto for this initiative.
"This partnership with Faircent will allow many of our ride share partners to purchase their dream bike, which was out of their reach with the financing options previously available to them," Johri said.
Johri is confident of reaching the 10,000 two-wheeler mark in six months, though the firm doesn't give any incentives to the rider partners.
"Our target is part-time riders who have other full-time jobs. They can earn more than the EMI (equated monthly installment) of their bikes. That is our incentive to them, in a sense," he said.
The bike manufacturers—Suzuki and Bajaj—are providing easier processes in financing, giving the firm free accessories and extended warranties of up to five years. The motorcycle companies are helping Baxi with marketing and offline promotions too.
"By helping Baxi drivers get access to cheap and easy auto loans, we are democratising financial services while providing a new investment opportunity to our lenders," said Vinay Mathews, COO and founder of Faircent, in a statement.
Baxi claims it has completed more than half a million rides in its 10 months of operations with a registered customer base of more than one lakh. It also claims it currently does more 2,000 rides per day in Gurugram and Faridabad. It plans to expand across Haryana and Rajasthan in the coming months.
Baxi started operations in Gurugram in December last year and in Faridabad in January 2016. Last year, it raised a $1.4 million seed round of investment from HT Media and angel investors like Manish Kheterpal, Alok Mittal, and Puneet Dalmia.
Baxi is founded by Manu Rana and Ashutosh Johri, both from the 1995 batch of IIT Delhi.
Rana has worked with i2 Technologies and Match.com (parent company of Tinder) in the US, before returning to India as VP – products at BookMyShow.com and chief product officer at IgniteWorld, a joint venture between Bharti and Softbank.
Johri has previously worked with companies like Siemens, Iridium, Ericsson, IBM, Cisco and AT Kearney.
Like this report? Sign up for our daily newsletter to get our top reports.
---