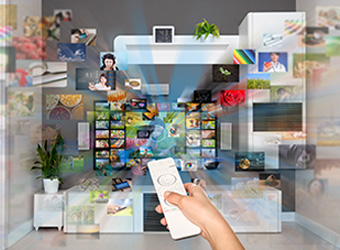 Emerald Media, a pan-Asian platform established by KKR for investing in the media and entertainment sector, has acquired a significant minority stake in YuppTV for $50 million (Rs 332 crore). YuppTV is an over-the-top (OTT) video platform for South Asian content offering live TV, catch-up TV and movies on-demand in 14 languages across the globe.
The growth capital will enable YuppTV to further its global footprint, expand its content library through original productions and acquisitions, and grow its paid subscriber base, it said on Tuesday.
Headquartered in Atlanta, Georgia, Global Takeoff Inc, the firm behind YuppTV, claims to reach more than 400 million households across the world and over 5 million monthly visitors.
YuppTV offers 250+ South Asian TV channels, 5000+ movies and 100+ TV shows to worldwide audiences, with a focus on the USA, UK, Middle East, Canada, Singapore, Malaysia, Australia, New Zealand and the Caribbean.
Uday Reddy, promoter and CEO of YuppTV, said, "YuppTV is a content distribution platform with a strong consumer connection, and Emerald Media has global media relationships. We hope to leverage their relationships and existing assets Endemol, OML, Fluence and Graphic India to create original programming and make this platform a next generation distribution and content powerhouse."
In 2014, YuppTV had raised $2.5 million (Rs 15 crore) in angel funding from Sashi Reddi, a serial entrepreneur and founder & chairman of Sri Capital. Reddi had picked 10% stake in the private company valuing the venture at $25 million then.
In September 2015, YuppTV had raised its Series A round of funding from Poarch Creek Indian Tribe of Alabama.
YuppTV was founded in 2007 by Reddy, who was previously a director for Nortel, where he was responsible for sales in the Caribbean. He has 14 years of experience in telecom and networking arena.
It competes with ventures such as NexGTv, Hotstar, Voot, Spuul, Eros Now, BoxTV, Hungama and Ditto TV besides Netflix, the world's top movie streaming venture that launched in India early this year.
Hotstar is run by 21st Century Fox, a firm controlled by media baron Rupert Murdoch. Murdoch also controls News Corp, the parent of this news website.
For Emerald Media, this is the first deal after buyout major KKR formed an investment platform along with American media holding company The Chernin Group to invest in Asian media and entertainment ventures last November.
Emerald Media focuses on providing growth capital ranging from $15 million to $75 million (Rs 100-500 crore) for both control and significant minority positions.
KKR had committed up to $300 million in the venture, from its KKR Asian Fund II. The Chernin Group joined as a minority co-investor in Emerald Media.
The deal also involved KKR acquiring a minority stake in CA Media, the previous Asian media platform of The Chernin Group. CA Media had earlier invested in Endemol Shine India, Graphic India, Fluence and Only Much Louder in India.
---