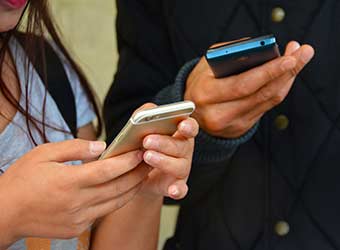 ChatOnGo, an enterprise communication tool, has raised $300,000 (Rs 2 crore) from high net worth individual and IT professional Janak Jain, according to a statement by the company.
With this funding, the company plans to expand its team and boost its product developments and sales and marketing initiatives. It will also enter global markets with the corpus raised.
ChatOnGo, which is run by Nimap Infotech Pvt. Ltd., was founded by Sagar Nagda and Priyank Ranka. Nimap has been in the IT services space for seven years now and has made more than 150 apps.
The ChatOnGo app is a tool which helps employees of a company interact in real time with dealers, distributors and sales teams across geographies. The platform is available as a desktop version as well as an app on iOS and Android.
"Initially we launched it as hyper-local platform but had little success, so we completely evolved our product in last one quarter and now we are B2B (business-to-business) startup. We are seeing good traction as we are solving real problems of businesses," said Nagda in the statement
In the enterprise tech segment, Applicate IT Solutions Pvt Ltd, that offers solutions for sales, marketing and distribution besides data analytics and enterprise communications, has raised $1 million (around Rs 6.8 crore) in angel investment from a group of high net worth individuals (HNIs) in January this year.
More recently, business communication platform AppSay, which is operated by Custmore Interactive Solutions Pvt. Ltd, has raised $150,000 (Rs 1 crore) in its first round of funding from seed investment firm Venture Catalysts in July.
Flock, founded by millionare Bhavin Turakhia, is another startup in this sector. Last month, the Turakhia brothers — Bhavin and his younger sibling Divyank — sold Media.net, an ad-tech company they founded six years ago, to Chinese investors for $900 million.
---