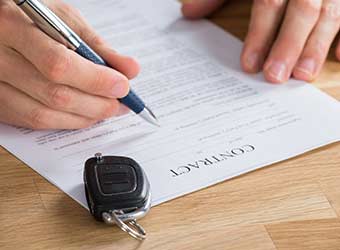 Leading taxi-hailing app Ola today partnered with luxury carmaker BMW, which the two companies claimed will go a long way in redefining on-demand luxury mobility in India.
Ola claims it has around half a million drivers on its platform and the service, Ola Lux, is available in Mumbai, Delhi and Bengaluru to begin with, and will shortly commence in Hyderabad.
Ola already has tie-ups with luxury car makers Mercedes and Jaguar and also with Mahindra and Tata Motors. Other OEMs like Maruti Suzuki, Toyota and Nissan also have such association with aggregators.
BMW India acting president Frank Schloeder said the partnership is not exclusive, but will offer 100 per cent financing from BMW Finance, assured buyback and two-year free insurance maintenance.
Pranay Jivrajka, chief operating officer of Ola, said Ola Lux is already available with around 100 luxury cars from Mercedes, Jaguar and Audi, and it hopes to take the number of super premium cars to 1,000 with the BMW tie-up over the next few years.
Asked whether the deal with a low-cost Ola could undermine its brand value, Schloeder replied in the negative.
"Where is the question of undermining the brand value in a market that has only 1 per cent market share for luxury cars, while in the West it is 10 per cent and 5 per cent in China. Had we been a large player here, probably it would have been true," Schloeder told PTI.
"Ola Lux is one-of-its-kind luxury car offering category that allows discerning customers to enjoy an unmatched premium experience. Ola customers will now be able to travel in absolute luxury and comfort in a BMW," he said.
Jivrajka said its premium offering -- Ola Prime and Ola Corporate -- now contribute 1 per cent to its revenue.
---