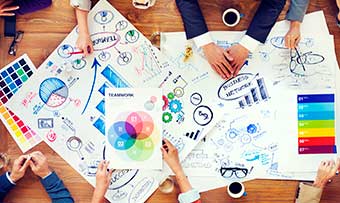 Bengaluru-based Healofy, a peer-to-peer content platform of moms and moms-to-be, has been selected for Facebook's FbStart programme, which is designed to help early-stage mobile startups build and grow their apps.
The app, owned and operated by Vivoiz HealthTech Pvt Ltd, will receive up to $40,000 credits and free tools and services from Facebook and its more than 30 partners including Amazon, UserTesting, Dropbox, and MailChimp. The startup will also get an opportunity to connect directly with the Facebook team and will be enrolled into the social media giant's exclusive community of global startups that include Adobe, Coursera, Dropbox, and Salesforce.
Healofy is designed to interact around health and lifestyle in the form of user generated content and Q/As on pregnancy and parenting.
According to Facebook, Healofy was chosen because of its development so far and it's potential for continued growth.
The startup was founded by Gaurav Aggarwal and Shubham Maheshwari in October 2015. Aggarwal, an IIT Guwahati alumni, worked briefly with used-car marketplace Gozoomo, while Maheshwari worked with e-commerce marketplace Flipkart and tech startup CodeNation before launching Healofy.
The startup operates on a model that currently doesn't focus on revenues but to gather as much user generated content as possible to engage and enable interactions on the platform. It would look at generating revenues by getting into e-commerce for baby products and maternity clothes in the future.
"We are not focused on getting revenues currently. Our main priority is to succeed in getting the user generated content and enabling interactions and micro-interactions on our platform to build a habit-forming product. If we can get to that level, there are multiple business opportunities in this segment as people spend a lot of their disposable income in this journey on their babies," Aggarwal said.
The company claims to be growing 22% week-by-week with a daily active user base of over 600. "Our day 7 retention rate is more than 60% while day 30 is 40%," he said.
FbStart is a programme from Facebook that offers a package of free tools and services designed to help early-stage startups build and grow their mobile apps. The selected startups will also get access to an exclusive community of its developers, worldwide events and mentorship from the social networking giant.
Any developer who has launched a working mobile app in the Apple or Google Play app stores is eligible to apply for FbStart.
The programme provides free access to more than 25 services including open source tools like React Native, FB Login and Account Kit and App Analytics.
According to newswire agency IANS, India is the largest market for FbStart outside the US. According to Satyajeet Singh, who leads product partnerships for Facebook, over 75% of top-grossing apps in India get integrated with Facebook.
JobSenz, a job search and educational content platform, was selected for the programme earlier this month.
---