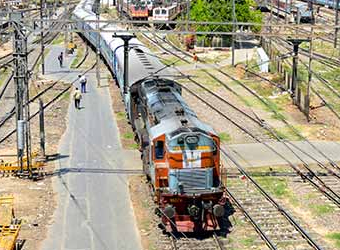 Following the National Democratic Alliance government's push towards a cashless economy, the Indian Railways may soon introduce the option to book unreserved tickets through mobile wallets, thereby shortening long queues at railway ticket counters.
In a potential game changer, the national carrier plans to put up quick response (QR) codes at railway stations for unreserved passengers wherein by scanning the code through a mobile device, a passenger will be able to buy a ticket by entering the destination and pay through mobile wallet. The ticket will be delivered on the mobile device.
A QR code is a machine-readable code consisting of an array of black and white squares forming a matrix containing data which can be read by smartphones.
The railways is in talks with mobile wallet providers such as PayTm, run by One97 Communications Ltd, and Jio Money, part of Mukesh Ambani-promoted Reliance Jio Infocomm Ltd, to introduce the facility.
A mobile wallet is a pre-loaded virtual wallet which can be used for online and offline payments.
"We are in talks with leading mobile wallet providers. The idea is to reduce the chaos and queues at the tickets counters. Unreserved passengers should be able to scan the code, add the destination and book tickets easily on their smartphones," said a senior railway ministry official requesting anonymity.
According to Krishnan Dharmarajan, executive director of Center for Digital Financial Inclusion, a think tank, using a QR code is a good idea especially where there are very clear fixed payments to be made.
"With this you can do away with the need for counters considering many times people in a hurry actually don't buy tickets because there's a long queue and lack of time. This would also help in moving transactions to a cashless system and making it easier in the times to come," Dharmarajan added.
The Indian Railways caters to almost 7 billion passengers annually. According to the ministry of railways, of the 13 million passengers served by the network every day, nearly 12 million are unreserved passengers.
The railways, through its subsidiary Indian Railway Catering and Tourism Corp. Ltd, has already partnered with PayTm to allow users to pay for train tickets online though its mobile wallet.
"We are looking to implement it by the end of the year. This can be implemented across all stations easily; we just have to provide a QR code at stations. This will come at no additional cost to us and passengers should easily be able to scan the code and get tickets. We should be able to monetise on the unreserved segment which has been our biggest challenge," said another railway ministry official who also did not want to be named.
The Narendra Modi-led government has put emphasis on moving towards a cashless economy to curb black money transactions and cut the cost of moving physical currency notes.
According to a report released earlier this year by the Boston Consulting Group, a management consulting firm, and Google Inc., 78% of consumer payments in 2015 were made through cash. Also, as per an estimate by The Institute for Business in the Global Context at The Fletcher School at Tufts University, the Reserve Bank of India and other commercial banks put together spend around Rs.21,000 crore every year in managing currency operations.
Queries emailed to the spokespersons of PayTm, Reliance Jio and the ministry of railways on 24 October remained unanswered.
Experts believe this is step in the right direction to leverage technology.
"With the growing income and growing popularity of smartphones and mobile wallets, this is the right time to introduce this technology so that people also become familiar with it and get more and more usage. The next step would be to use private sector to collect revenue and ensure that there are more ticket-less passengers and overall service provided to passenger improves," said Abhay Agarwal, partner at consultancy firm EY.
The railways has pegged passenger earnings growth at 12.4 % and earnings target has accordingly been budgeted at Rs.51,012 crore for the current financial year.
---