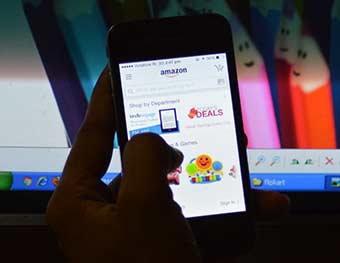 E-commerce giant Amazon is set to unveil its global programme for startups in India named Launchpad within the next two months, Mint reported citing three people familiar with the development.
Amazon Launchpad is a programme which showcases innovative products from startups to customers.
The Launchpad programme will not only offer products from startups but will also showcase products from traditional offline brands, told the people mentioned above to Mint.
Amazon will also offer marketing support to companies and will waive off advertisement fee for the first three months.
"As far as Launchpad is concerned, the approach for India will be slightly different compared to other countries. Their approach here will be two-pronged. Firstly, they want to showcase all new B2C (business to consumer) products from various startups and FMCG brands, ones that already have an online presence. Secondly, they want to showcase B2C products from brands that only have an offline presence," an executive familiar with Amazon's plans told Mint.
Amazon has initiated discussions with startups and brands for the programme and has already got on-board lingerie startup Buttercups and energy snack bar brand Yoga Bars. The company is also planning to launch subscription services for some of the FMCG brands for the Launchpad programme.
"With Launchpad, Amazon will offer subscription service for FMCG brands, which will make the brands a part of the consumers' monthly basket, which is what any manufacturer wants to be," the person added.
Chinese e-commerce major Alibaba Group also very recently announced the launch of its global e-commerce talents programme in India under which it will equip small business professionals, entrepreneurs and students prepare for the global e-commerce space.
---