Confused about the significance of Dhanteras or Govardhan Puja? Don't know if Lord Ganesha should be sitting on the left or the right side of Goddess Laxmi while doing Diwali puja? Fret not. There is help at hand. There are hordes of apps that can guide you through the five-day Deepawali festival and pujan with details on not only the significance of each day but also on doing the rituals the right way. These apps also provide a list of items needed for the puja as well as the background on their origin, the stories and the aartis recited in the puja process.
Techcirlce picks five free-to-download android apps.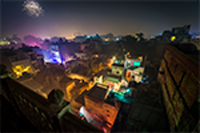 Laxmi Diwali Pujan (Final Codes)- This app is in Hindi language and is divided into six sections. The first two sections tell you about the significance of Diwali and Diwali "Katha". The next section is all about the five days of Diwali- Dhanteras, Narak Chatudarshi, Laxmi Puja, Govardhan Puja and Bhai Dooj. It tells you the stories behind the celebration of these days. There's a section called "Pujan Vidhi," through which one can learn about the things needed for the puja, how to prepare for the puja in great detail, then how to go about the puja step by step. The app also has main Aartis in written as well as the audio format. It also has recipes for popular sweets.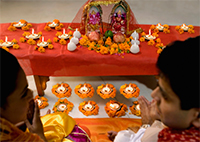 Diwali Lakshmi Aarti – This app comes in very handy when you're looking for aartis during the puja. Just one click and you have all the well-known aartis and bhajans. With the help of this app, one doesn't need to look for the aartis anywhere else. Along with these bhajans, it also has the "puja vidhi" audio to guide you through the ceremony.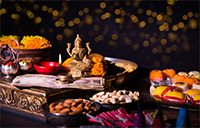 Puja Vidhi Checklist – With all the Diwali preparations on your mind, this app will help you keep a track of all the pooja requirements. It has a very meticulously compiled checklist that even has details on the quantity of items needed. You can mark and unmark the items according to their availability. Apart from the checklist, it has katha/pujan in both Hindi and English.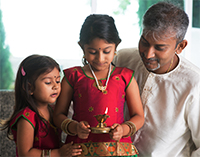 Govardhan Vrat Katha – This app is in Hindi and has "kathas" and videos to walk you through the Govardhan Puja. It tells about the importance of this puja and the stories related to it. It will also tell you the whole procedure of the puja. In the video section, there are YouTube integrated videos of the Govardhan puja showing very elaborately the Lord Krishna and Govardhan stories.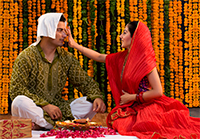 Bhai Dooj Katha App – This Hindi app gives an elaborate account of the stories and steps involved in the Bhai Dooj pooja, which is performed on the last day of Diwali celebrations. Other than the "kathas", it has videos which can guide you through the whole "puja vidhi". The app is quite easy to use. It helps one connect to the stories we might be losing touch from.
---