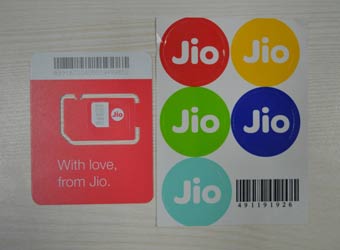 Demand for smartphones compatible with the voice-over-LTE (VoLTE) technology in the country has surged after the rollout of Reliance Jio Infocomm Ltd's 4G services in India, according to market research firm Counterpoint Technology.
Counterpoint Technology said 80% of all LTE-compatible smartphones shipped in the July-September quarter of 2016 were VoLTE-ready as compared with 63% in the three months through June and 30% in the first quarter.
"The 'Jio launch' effect has catalysed the adoption of VoLTE by original equipment manufacturers (OEMs) as the key feature in the Indian smartphone market to make it compatible with Jio's 4G network. VoLTE has become a unique selling proposition for smartphone makers aiming to differentiate their offerings in the competitive sub-$150 segment," Tarun Pathak, senior analyst, Counterpoint Technology told Techcircle.in.
Jio is the only 100% VoLTE-enabled network in the country and runs on devices enabled with the technology. VoLTE technology enables customers to use data and voice at the same time and also ensures better voice quality. Also, Jio is an IP-based 4G network while the other incumbents such as Airtel, Vodafone, Idea and government-owned BSNL and MTNL run on what is called a circuit switched fallback (CSFB) network. CSFB is a technology where voice and SMS services are delivered to LTE devices through the use of GSM or another circuit-switched network.
According to Counterpoint, Samsung, LYF, Xiaomi and Lenovo are among the leading brands in the VoLTE-enabled smartphone category.
"We estimate nine out of 10 LTE smartphones shipped by the first half of next year to be VoLTE capable," Pathak said.
The interest towards VoLTE-enabled smartphones is more in small towns than in the urban cities, said a report by The Economics Times. The report, quoting 91mobiles, said internet searches for VoLTE devices under Rs 5,000 from smaller towns have tripled.
"To a consumer in tier 3 and tier 4 cities or lower down, VoLTE means free calls — because of Reliance Jio. That's why we see more demand coming compared to urban and tier 1and 2 cities," Pankaj Rana, head of smartphones business at Panasonic, told The Economics Times.
Reliance commercially launched Jio 4G services in India in September 2016. Jio currently offers its services under its 'welcome offer' where it allows users to make unlimited HD voice and video calling, SMS, high-speed data and access to a host of Jio premium apps till 31 December 2016.
---