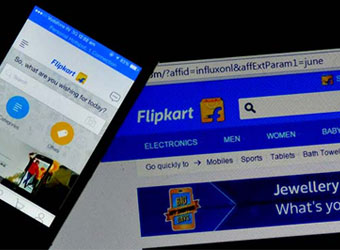 Home grown e-commerce giant Flipkart claims that it has beaten global heavyweight Amazon in terms of sales in the all-important festive month of October. Both e-commerce marketplaces ran special sale events during the month to establish a leadership position.
Flipkart claims that it witnessed six times more sales this year compared to what it achieved in October 2014, according to a report by Mint newspaper on Wednesday, quoting Flipkart's chief executive Binny Bansal.
Bansal's statement comes less than 24 hours after Amazon India head Amit Agarwal claimed a significant three-fold jump in sales in the month of October from last year.
In an interview with Mint, Bansal said the company has outsold Amazon in October in a strong affirmation of Flipkart's market capabilities to hold its own against the spending power of the US retail giant that sits on a $15.9 billion war chest to drive growth in the Indian market.
"One thing that is heartening in the wide lead established by Flipkart (in October) is that a home-grown company can successfully fend off a 22-year-old global behemoth (Amazon) pouring in money to buy market share. This is very important as it's a question on everyone's mind today, especially on the minds of entrepreneurs: how will we take on global giants if they come into India? The answer is that you can. You need to do it with the right customer focus, local innovation and local knowledge. And that would always win against just pure capital," Bansal was quoted as saying by the publication.
While Bansal refused to divulge exact sales figures, quoting unnamed sources, the report said the home-grown company recorded gross sales of more than Rs 5,000 crore in October across Flipkart, Myntra and Jabong platforms while Amazon India's gross sales in October stood somewhere between Rs 4,000-4,500 crore.
Agarwal had claimed on Tuesday that Amazon's sales increased 2.7 times during the month-long Diwali sale event compared to the same period from last year. According to him, the e-commerce heavyweight would continue investing big in India as it considers the market very early in its e-commerce trajectory.
US-based Amazon, which started operations in the country in June 2013, has already invested $2 billion into its India business and in June this year, Amazon's founder and CEO Jeff Bezos committed to spend another $3 billion in India.
Speaking to Mint, Agarwal said the $3 billion investment commitment is on track and that it would take a lot more investment to unleash the true potential of e-commerce in India.
Amazon and Flipkart are in an intense battle for supremacy. Flipkart, Amazon and Snadpeal had run sale events campaigns recently ahead of the festive season and are planning more such events for the year.
As the first campaign ended, Flipkart had announced victory over Amazon by selling 15.5 million units as compared to Amazon's 15 million units. Ruling out Flipkart's claims of being the best in the business in India, Agarwal had said the metric followed by its rivals Flipkart and Snapdeal was 'bogus'. He said customers chose Amazon as the default shopping destination and that he is confident of Amazon being the leader in terms of selection, reliability, convenience, price and availability.
"We have seen a phenomenal growth this year, much bigger from last year. In the five days, we have already shipped 15 million units with a few hours still to go. This is 3X bigger than last year," Agarwal had told PTI.
According to research firm RedSeer Consulting, festive sales were expected to help e-commerce companies register transactions worth $1.5-1.7 billion in the month of October alone.
---