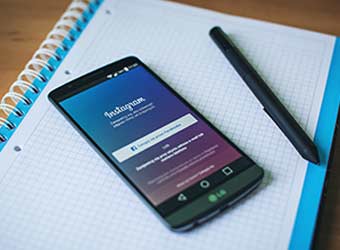 Facebook Inc.-owned photo and video sharing app Instagram is testing a "shop now" button that it will roll out from next week, allowing one to buy what he or she sees in a photo that is being shared on its platform.
The test, only in the US for the time being, will be tailored for Instagram apps on Apple's iOS devices.
"Starting next week, we're testing a way for our community to learn more about the items they view within an Instagram post. Most mobile shopping experiences today take people from the shop window right to check out—without giving consumers the opportunity to consider a product and get more information," the US-based app firm said in an official blog post on Tuesday.
For this initiative, the company has tied up with a few retailers in the US.
"To test the new experience, 20 US-based retail brands including Kate Spade, JackThreads and Warby Parker will share posts that have more depth, making it easier for Instagrammers to review, learn about and consider the items that interest them," the blog added.
This option will bring product information to consumers without the need to leave the Instagram app for searching. If the consumer taps the "Shop Now" link in the product details section, they will go directly to that product on the brand's website, thereby making it easier for consumers to buy products they like.
How it works:
A post will have a 'tap to view' icon and will show up to five products.
Tapping on a product shows users product details without having to leave the Instagram app to search.
When the user taps the 'Shop Now' link from the product details view, they will go directly to that product on the business' website, making it easier for them to buy the product they need.
Instagram said it has signed up 20 US-based retailers including accessories and apparel retailer Kate Spade, JackThreads and eye-wear maker Warby Parker.
"With this seamless shopping experience launching on Instagram, the possibilities for selling our products are endless," Mary Beech, executive vice president and chief marketing officer, Kate Spade & Company, said in the blog.
Instagram's owner Facebook had also recently ventured into the shopping scene with the launch of its Marketplace.
Marketplace's integration with Facebook Messenger on the mobile app helps users take the anonymity away from people they are dealing with. By this move, Facebook is taking on classified ads sites such as Craigslist and peer-to-peer online marketplaces such as eBay.
Instagram won't take a cut on purchases, and instead plans to monetise the product by later allowing brands to pay to show their shoppable photos to people who don't follow them, according to a TechCrunch report on Tuesday, quoting Instagram's vice president of monetisation James Quarles.
Instagram, as reported by TechCrunch, has 500,000 advertisers. Facebook had acquired Instagram for nearly $1 billion in April 2012.
---