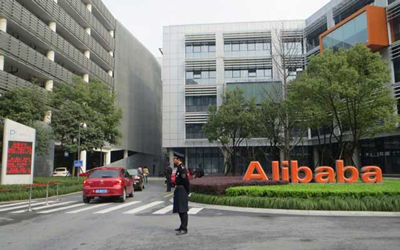 Chinese e-commerce giant Alibaba Group Holding Ltd has reported strong revenue growth for the second quarter led by its core business as well as the digital media and entertainment segment.
Revenue rose 55% to 34.29 billion yuan, or $5.14 billion, for the three months through September from 22.17 billion yuan, or $3.49 billion. The rise in dollar terms is lower because the greenback has strengthened against the Chinese currency during the period.
Revenue from the company's core commerce business rose 41% year-on-year to 28.49 billion yuan. Sales from the cloud computing business climbed 130% to about 1.5 billion yuan while revenue from the media and entertainment segment surged four-fold to 3.6 billion yuan.
"Beyond the strong performance of our core commerce business, we are pleased with the continued rapid growth of our cloud computing business. We also see huge potential in our newly integrated digital media and entertainment unit," Daniel Zhang, CEO at Alibaba Group, said in a statement.
The company, which has investments in Indian e-commerce and mobile wallet firm Paytm as well as e-tailer Snapdeal, said mobile revenue contributed 78% to its China retail revenue and that it now has 450 million monthly active mobile users compared with 427 million at the end of June.
Annual active buyers on its China retail marketplaces reached 439 million, up 5 million from June, while the number of paying customers of the cloud computing business grew to 651,000 from 577,000. The Wall Street Journal reported that the group had slashed the products of the cloud computing segment by half, paving way for the business to be a major driver of growth.
The increase in revenue from the digital media and entertainment business was attributed to acquisitions of video streaming firm Youku Tudou and Singapore e-commerce firm Lazada as well as an increase in revenue from mobile value-added services provided by UCWeb. The division reported a loss of $211 million, which the WSJ attributed to spending on content.
Billionaire Jack Ma-led Alibaba Group said also that its net income for the second quarter was 7.07 billion yuan, or $1.06 billion, down 69% from a year earlier when it had recorded a one-time gain from a revaluation of the company's health and pharmacy business.
Bloomberg reported that while Alibaba has entered many businesses outside e-commerce, these segments are far off from generating profits for the group and its main revenue driver will continue to be its core business thanks to the high margins this sector offers.
Alibaba Group has been gearing up to enter India this year and is looking at opportunities to build the business. The company is likely to pick up a majority stake in the e-commerce business of One97 Communications Pvt Ltd, which runs Paytm. NYSE-listed Alibaba Group, along with its financial services arm Ant Financial, owns close to a 41% stake in One97.
---