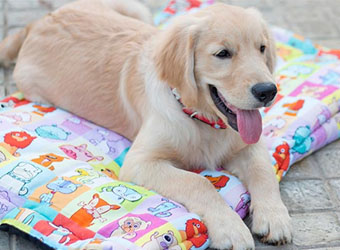 A dog, they say, is a man's best friend. For those of us who have these friends know that while they are a big source of happiness, many a times stress is also around the corner. Going away for vacations is not easy; most hotels in India still don't welcome dogs as guests. There are not many reliable crèches available to leave your pooch behind. Variety of food available is mostly restricted to canned/packaged products from a handful of brands. Taking the canine to a nearby restaurant is almost an alien concept. And, if you are one of those who love to dress your bestie, limited options is easily the first hurdle you will face.
Techcircle lists a few startups that help you get what you are looking for your furry buddy:
Heads Up For Tails: This Delhi-based startup, run by Precious Pet Services Private Limited, caters to a list of products for pets. From food to personalised occasion wear, this startup has everything to pamper your dog. They also offer products to get your dog party-ready. From bandanas, bowties to clips and shoes to party collars, they have it all. For dog food, one can place an one-time order or opt for a scheduled food delivery service. Orders can also be placed via WhatsApp and calls. One can also chose from personalised mats, bowls and collars. A section offers goods at as low as Rs 300.
Founded by Rashi Narang in 2008.
Waggle: Currently operational in a few cities including Delhi, Bangalore, Mumbai, Bidadi, Gurgaon, Puducherry, waggle.in, run by Improvi Technologies Private Limited, is a platform through which dog owners can find temporary homes of dog lovers for their pets when they're traveling. The site claims that all the hosts listed are genuine dog lovers and are capable of taking care of the pets. You can choose the host on the basis of the amenities they provide and the reviews. The owners and the hosts can arrange a playdate before the owner leaves to know more about each other and familiarise the dog with the host and his place.
Founded by couple Arjun Mathai and Samira Abraham in 2013.
CollarFolk: This Delhi-based startup, owned and run by Collarfolk Petservices Private Limited, is an attempt at facilitating pet-friendly holidays in India. For the people who would like to take their pets along while travelling, this is where you can plan better. Its services include providing cabs (currently available only in NCR), day boarding, grooming, pet food, vet-on-vall. It also assures a personal holiday manager. The hotels/resorts and transportation services are verified to be pet-friendly. One can book for trekking experiences at locations such as Kodaikanal, Hathi Poan, Lonavala, etc.; for water sports like speed boating, cruising, canoeing, sailing and within-city experiences that suggests pet-friendly places to hang out in various cities. The holidays are broadly divided into four categories namely Home Stay, One with Nature, Lap of Luxury and Ocean Retreat.
Founded by Rukmini Vaish in April 2015.
Doggie Dabbas: One can order customised, nutritious and a balanced diet for their dogs from this platform. Run by Pet Nutrition Expert, this Gurgaon-based startup is operational in NCR, Mumbai, Pune and Bangalore. For ordering pet food, one has to first fill up a form with the details of the pet. After which, a food sample will be sent to the pet owner. Once content with the sample, the food will be delivered accordingly to the user. Their diet plans include weight loss plan, liver and kidney support plan, gastrointestinal food, etc.
Founded in 2011 by Rashee Kuchroo.
Dogsee Chew: A Bangalore-based startup, owned by Khanal Foods Private Limited, selling natural/organic food for dogs across countries. They sell their goods on their own website as well as through other leading e-commerce websites, such as Flipkart and Amazon India. The food variety, which includes puffies, bars, nuggets and puffy bars, aims at meeting the nutritional requirements of your dog. The pet snacks available are vegan, so if you're a vegetarian and are willing to make your dog's primary food vegetarian, you might want to consider this. Also, the chews are completely gluten free and have 60% protein content, making sure that the dog has a well-functioning body and strong muscles.
Founded in September 2015 by Bhupendra Khanal, who is based out of Nepal.
---