Digital wallet firms see unprecedented growth after ban on high value notes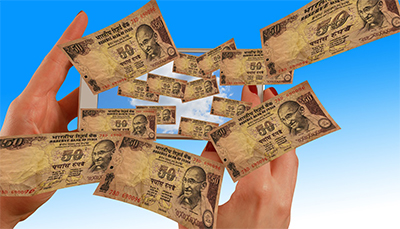 Prime Minister Narendra Modi's unexpected call to abolish Rs 500 and Rs 1,000 banknotes has been welcomed with open arms by digital payment companies as they experience unparalleled growth on their platforms after the announcement. The move, it seems, validates their efforts to move the Indian consumers to the world of digital payments.
"Today should be digital India's luckiest day and start of golden age for all fintech companies. Privileged to be born in this," tweeted Paytm founder Vijay Shekhar Sharma.
Paytm claimed that the platform saw an overwhelming 435% increase in overall traffic while cab aggregator Ola, run by ANI Technologies, reported over 1500% increase in recharges across 102 cities where it operates since 8:30pm on November 8.

Snapdeal-owned mobile wallet FreeCharge said there was a 12 times surge in average wallet balance after the announcement was made.
A digital wallet is essentially a digitised version of traditional wallet — to safely keep money and credit cards instead of cash — and payments are made through electronic commerce transactions. Paytm said the company has registered a 200% hike in number of app downloads and a 250% surge in number of overall transactions and transaction value ever since the announcement, the company said in a statement on Wednesday. The company claimed to have noted 1000% growth in money added to the wallet and 400% growth in transaction value of offline payments.
Gurgaon-based mobile payments company MobiKwik said it registered 40% growth in app downloads within 18 hours of the pullout of Rs 500 & Rs 1000 notes. Its user traffic and merchant queries went up by 200%. The company said it has revised its business targets and aims to achieve a GMV (Gross merchandise volume) of $10 billion by 2017. "With this policy change, we expect a 10X impact - we expect to easily hit $10 billion in payments volume," said Upasana Taku, co-founder, MobiKwik.

Pallav Singh, senior vice president and head of Ola Money, said the company saw a growth of over 15 times on Ola Money recharge within the past 15 hours.
"All the banks and fintech companies have huge opportunity to capitalise on the estimated Rs 15,00000 crore being converted into either digital money or new currency notes. At Happay, we have been working overnight to help businesses with a smooth transition from cash to cashless payments," Varun Rathi, co-founder and chief operating officer of Happay said. Happay is a fintech startup that offers expense management solutions for companies.
As ATMs remain closed on Wednesday and some likely to be shut on Thursday as well, digital wallet firms expect unprecedented growth in the coming days. While the current scenario of panic and chaos is likely to subside and normalcy is expected to return soon, these firms are pinning their hopes on retaining a fraction of the new user base.

"In the short term, the decision will push new users to adopt digital payments and result in surge in digital wallet transactions, making it the de-facto payment mode. In the long term, this is likely to drive several benefits for the economy by increasing the acceptance of digital payments amongst both merchants and consumers. The biggest winners from this initiative are the wallet services providers like ICICI, Paytm, MobiKwik who have joined the online wallet bandwagon early," said Srinivas Nidugondi, senior vice president and head of mobile financial solutions, Mahindra Comviva.
---