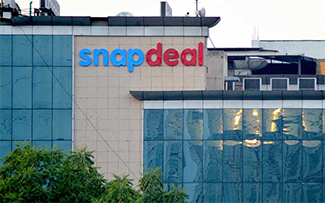 Online marketplace Snapdeal, run by Jasper Infotech Pvt Ltd, has carried out a top-level reshuffle which is leading to consolidation in some of the company's key teams such as category management, market development, and brand alliances.
The development was announced in an internal email sent by Snapdeal's co-founder and chief operating officer Rohit Bansal to employees on Wednesday. A copy of the email has been reviewed by Techcircle.
"Market development, Category Management and part of Brand alliances teams are being consolidated into one team, which will be led by Vishal Chadha. Within Vishal's team, we will move to a business unit structure where all category managers, key account managers, brand partnership managers, and most other functions pertaining to a category will become a part of the same business unit," said Bansal in the email.
Vishal Chadha is senior vice president at Snapdeal, while vice president Saurabh Bansal who was vice president and head of category management is moving to head Snapdeal Instant. Snapdeal Instant was launched last year in July to allow delivery of goods within an hour of placing the order.
The reason for these changes is not known.
"Seller partner facing functions have been clubbed to align workflows and enhance synergies. It does not in any way adversely impact teams or individuals," a company spokesperson told Techcircle on the realignment but did not disclose further details.
The Times of India was the first to report the development on Friday.
Over the last few days, the social media has been abuzz with rumours of top level exits from Snapdeal. The company has strongly refuted these reports.
Each of the category business units will now have four broad work streams—portfolio management, key accounts management, brand alliances management, and products life-cycle management.
"The pricing analytics team will now roll up to Anubhav Goyal and Tony Navin will be heading strategic partnerships and new initiatives for Snapdeal," the email added.
Goyal is now the head of analytics, product and user growth and Navin is now senior vice president of partnerships and strategic initiatives.
Techcircle could not immediately ascertain what exactly the earlier structure was at the firm.
Bansal added that "this new structure will be completed within the next one week."
Snapdeal is in the midst of several developments. VCCircle had reported in August that Snapdeal has initiated preliminary talks with staunch rivals Flipkart and Amazon to explore a possible merger.
Snapdeal's biggest investor SoftBank marked down its investment in the company recently.
SoftBank holds a significant minority stake in Snapdeal. It had led a $627 million round of investment in the company in late 2014 followed by another round of $500 million last year.
In total, Snapdeal has raised nearly $1.65 billion from about two dozen investors. These include SoftBank and SoftBank-backed Chinese e-commerce company Alibaba, Taiwanese contract electronics manufacturer Foxconn, global online marketplace eBay Inc., Indian media company Bennett Coleman & Co. Ltd, and venture capital investors such as Bessemer Venture Partners, Intel Capital, Iron Pillar, Kalaari Capital and Ratan Tata.
Snapdeal, Flipkart and other Indian e-commerce firms have spent heavily on discounts and marketing over the past few years, as they focused on building a strong customer base, before working toward profitability. This widened losses at the top e-commerce companies.
Snapdeal, founded by Kunal Bahl and Bansal in 2010, has also been trying to cut costs and focus more on profitability. The pressure on Snapdeal is also evident from two recent developments. The company has shut down Exclusively.com, a marketplace for premium branded fashion and lifestyle products, about 18 months after acquiring the startup. It has also been in talks with several investors, including Foxconn, to sell a stake in its payments unit FreeCharge. Snapdeal had acquired FreeCharge in early 2015.
Last month, Snapdeal's rival Flipkart, which is India's biggest online marketplace, had also made some changes in its top management, as it chief financial officer Sanjay Baweja quit, during the October festive season.
---