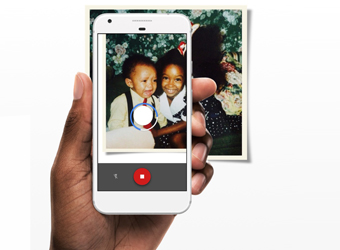 Tech giant Google has launched a new app to allow users to turn their old printed photos into digital images for free.
The PhotoScan app launched by Google Photos will be available for Android and iOS users. It has a simple interface and gets going within a few seconds. The app detects edges, straightens the image, rotates it to the correct orientation and removes glare. The scanned photos can be easily saved in one tap to Google Photos.
"We all have those old albums and boxes of photos, but we don't take the time to digitize them because it's just too hard to get it right. We don't want to mail away our original copy, buying a scanner is costly and time consuming, and if you try to take a photo of a photo, you end up with crooked edges and glare," the company said in a blog post on Tuesday, explaining the rationale for launching the new app.
The company is also bringing new features, including advanced editing tools, to the Google Photos app. Users just need to open a photo and tap the pencil icon to start editing. An auto-enhance feature allows users to make enhancements including exposure and saturation with one click.
The company has also brought in 12 new filters which it calls ''looks'' for users to experiment with the photos. "All looks use machine intelligence to complement the content of your photo, and choosing one is just a matter of taste," it said.
Besides, Google has come up with advanced editing controls for light and colour which allow users to fine-tune photos including highlights, shadows and warmth.
---