OnePlus 3T phone with advanced features unveiled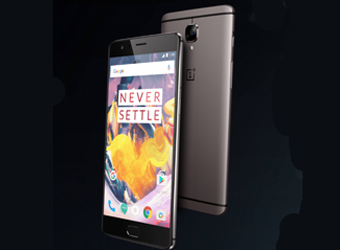 Handset maker OnePlus has unveiled its new flagship device, the OnePlus 3T, barely six months after launching the OnePlus 3 phone in June.
OnePlus has retained the most of OnePlus 3 in its new device 3T barring a few increments on the camera, processor and the battery side.
The OnePlus 3T comes with a better front camera, bigger battery, larger storage and faster processor whereas the design remains the same.

The device will be available in two colors – Soft Gold and Gunmetal. The OnePlus 3T starts at $439 (around Rs 29,748) for the 64GB version and $479 (around Rs 32,458) for the 128GB variant.
The phone will be available for purchase in the US starting November 22. The pricing and availability for the Indian market was not revealed by the company.
Talking about the similarities, the OnePlus 3T houses a 5.5-inch full HD (1080p) Optic AMOLED display and 6GB RAM similar to the old device. The design and dimensions also remain the same on the new device.

However, the new device gets an upgrade with a 2.35GHz quad-core Qualcomm Snapdragon 821 processor instead of the Snapdragon 820 on OnePlus 3. It packs a bigger 3,400mAh battery as compared to 3,000mAh on the OnePlus 3.
It also will enable Dash charging technology which was seen in the earlier device.
The company is shipping the new device with a 16 megapixel front camera, a major improvement over the earlier 8 megapixel camera. Sadly, the new device also runs on Android 6.0 Marshmallow instead of the latest Android 7.0.

OnePlus 3 was widely acclaimed in India for the technical specifications it was offering against the price. With the company fixing the bolts at places, the future for OnePlus 3T looks exciting.
---