Google Play Newsstand launched on web; gets complete overhaul on Android and iOS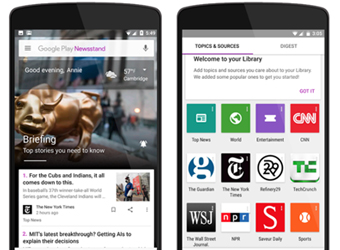 Technology giant Google Inc. has announced a complete redesign of its news aggregation app Google Play Newsstand on Android and iOS and has also launched a web version of the app.
"The complete redesign of Newsstand focuses on three big improvements: personalisation, rich media, and the extension of our platform to the web," Google said in a blogpost.
Newsstand now has four tabs to make it easier to navigate the news. The main For You tab houses both a personalised briefing and an AI-powered recommendation stream at the bottom of the screen. The app has reworked its interface to combine top stories, major headlines, and suggested articles based on a user's interests and preferences. This blend of content makes identifying top stories simpler, while allowing for deeper exploration of potentially interesting topics. The Library, Explore, and Read Later tabs contain sites and subjects you've picked out, additional stories to browse through, and saved articles, respectively, The Verge reported.

Google says it will use machine learning to find and recommend timely and relevant stories based on individual interest of users. Users will get to see personalised briefings including major headlines, top stories etc.
The company says Newsstand will also recommend a stream of stories from topics and sources, allowing users to go deeper into the day's news.
With the latest update, Google has also improved the support of multimedia content. Users will be able to experience autoplay videos, easy podcast controls, high-resolution and full-bleed images as they scroll through the newsfeed. The company has also brought in a data saver feature which users can toggle on or off.

"Finally, we know how important it is to provide access to the news and stories you care about, wherever you are. And that's why we have not only included Android and iOS in this update, but have extended Newsstand 4.0 to the web with our brand new web app," added the company in the blogpost.
Newsstand which was launched in 2013 competes with the like of Flipboard, Apple News etc. The company says Newsstand has 100 million monthly active users.
Earlier this week, Google had brought a fresh update to its Google Play Music App to users in 62 countries.

---