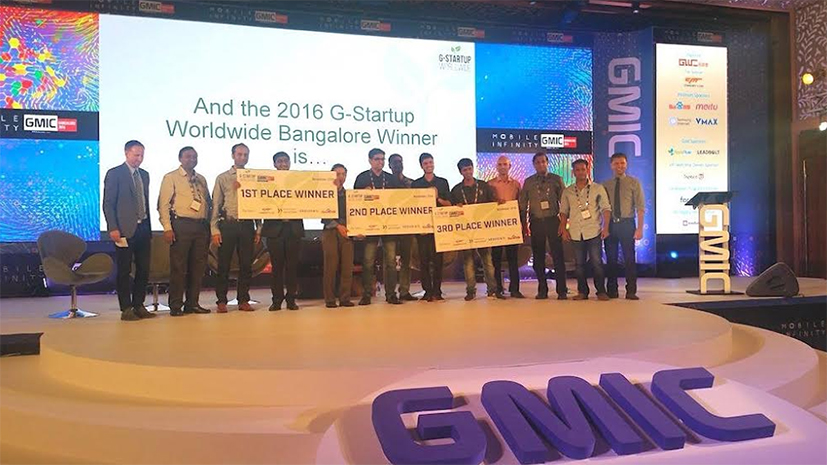 StockViews, a marketplace for asset managers and independent equity analysts, received a funding of $50,000 after it emerged the winner at G-Startup Worldwide, a startup competition held by Global Mobile Internet Conference (GMIC) in Bangalore.
StockViews will also get a chance to participate at the G-Startup Worldwide's global final to be held at Silicon Valley in the US where it will compete with winners from Seoul, Tel-Aviv, Beijing, Tokyo, Jakarta, Sao Paulo and San Francisco. The winner at the final event will receive additional funding worth $250,000.
Incorporated in London, StockViews sells investment advice to portfolio and fund managers. It plans to enter the Indias market within six months, according to co-founder and CTO Sandeep Bathina.
Bathina, who is a former Google employee said, "The opportunity to present to more than 20 venture capitalists is incredible. We are looking to compete at the G-Startup Worldwide's final at Silicon Valley."
The second place at the two-day competition held in Bangalore went to Gurgaon-based numberz.in, a software-as-a-service (SaaS) platform that helps small businesses better manage their cash flow.
It was founded by Aditya Tulsian, Baskar Ganapathy and Rajeev Chari. Tulsian, a former Intuit India employee, is an Indian School of Business graduate. Chari is also an alumnus of Indian School of Business. He has previously worked with Coca-Cola and Ford. Ganapathy has previously worked with AT&T and Intuit India. Investors in the startup include Kae Capital and Khosla Impact.
WorkIndia, a Mumbai-based marketplace that helps corporations find skilled workers, bagged the third place. It works as a recruitment firm in the blue-collar industry. The startup claims it is ranked number two in the Mumbai market after QuikrJobs just six months after re-launching its app. The startup was launched in July last year by Kunal Patil, Nilesh Dungarwal and Moiz Arsiwala.
Patil is a New York University graduate who has worked with Edelweiss Capital and ICICI Venture. Dungarwal is a former Credit Suisse executive while Arsiwala is alumnus of Sardar Patel Institute of Technology.
Around 418 startups applied for participating in the competition from more than 24 countries. Of which, 15 finalists were selected by the evaluation committee, consisting of investors from Kae Capital, Kyron Global, Sequoia Capital, Blume Ventures, GWC Innovator Fund, Axilor Ventures, M&S Partners, Bessemer Venture Partners, India Quotient, SAIF Partners and Norwest Venture Partners based on industry, traction, product innovation and founding team.
"India is one of the most promising markets for startups in the world. We were overwhelmed with the high-quality applications from early stage startups for our G-Startup at GMIC Bangalore and are excited to choose two of the most innovative startups to invest in and help them to grow globally," GMIC and G-Startup co-founder Barrett Parkman said in a statement.
G-Startup Worldwide provides over $1 million (Rs 6.6 crore) to winning startups and offers the global winner and finalists with an international network to scale their ventures.
Increasingly, VCs are looking to startup competitions for new investments, and startups are capitalising on the opportunity to meet many potential investors in one place.
G-Startup has partnered with Sequoia Capital, Google Launchpad, Baidu, FbStart and Cheetah Mobile for the event.
---