Intrigued about prospects of life beyond earth? These space projects may help you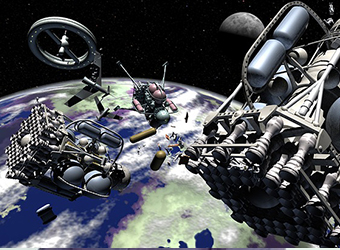 "I believe that life on Earth is at an ever-increasing risk of being wiped out by a disaster, such as a sudden nuclear war, a genetically engineered virus, or other dangers," said renowned physicist Stephen Hawking, as per an extract published in The Guardian. He further added that, "I think the human race has no future if it doesn't go to space." He said that for the future of humanity, we must take more interest in space travel. Only a few decades ago, space travel, exploring life on other planets used to sound like a work of fiction but times have changed and more and more use of technology, with advanced research and development, we can see significant development in the field of space travel.
Techcircle has listed below some of the most talked about space projects.
Asgardia - The Space Nation: As defined by the man behind the idea, Russian businessman and scientist, Igor Raufovich Ashurbeyli, Asgardia is 'the first ever space nation - a global, unifying and humanitarian project.' He announced the idea on 12 October in Paris. The company's website says that it will be an independent nation which will not be bound by the land-based country laws and would be called as 'no man's land'. He has not only sought recognition of the proposed new nation from United Nations but has also asked for the applications for citizenship. He has received more than 5,31,000 registrations, out of which 11,770 belong to Indians. Ashurbeyli told The Guardian that, "Physically the citizens of that nation state will be on Earth; they will be living in different countries on Earth, so they will be citizen of their own countries and at the same time they will be citizens of Asgardia."

Mars One: The Dutch firm, led by entrepreneur Bas Lansdrop and scientist Arno Weilders, aims to make a permanent human colony on Mars starting in 2027. First a habitable settlement will be established on the planet and then the carefully selected and trained astronauts will be sent there. The crew will be sent on a one-way ticket, which means they won't be going for sight-seeing but for living there and making it their home.
SpaceX: The California-based company was founded by Tesla Motor's CEO Elon Musk in 2002 with the aim of enabling human existence on other planets. It currently has three vehicles – Falcon 9, Falcon Heavy and Dragon. As per the company's website, Falcon 9 is the world's first fully reusable rocket which retuned back to Earth with cargo; Falcon Heavy is the world's most powerful rocket; and Dragon to be the first private spacecraft to visit the space station and has been chosen to fly next generation of astronauts to space.
Team Indus: The Bengaluru-based space technology startup was founded by Rahul Narayan and Indranil Chakraborty in February 2015. The company's investors include Infosys Technologies co-founder and former UIDAI chairman Nandan Nilekani, Subrata Mitra and Shekhar Kirani of Accel Partners, Chief Product Manager of UIDAI Vivek Raghavan, among others. It is led by Axiom Research Labs Pvt Ltd. Team Indus is preparing for a soft landing on the moon by the end of 2017 as a part of the Google Lunar XPrize project. It proved its mettle by being one of the very few companies to win Google Lunar XPRIZE Milestone Prize. Their spacecraft will be launched with the ISRO's PSLV at the end of 2017.

Mars Orbiter Mission (MOM): It is a spacecraft launched by Indian Space Research Organization, which is orbiting Mars since September 2014. It is called as India's first interplanetary expedition. ISRO's mission is to study Martian surface, mineralogy, morphology, and atmosphere through MOM, also known as Mangalyaan.
---