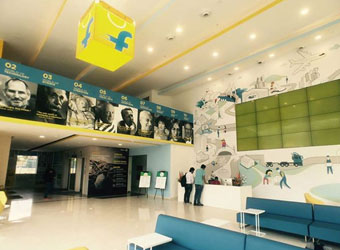 India's biggest e-commerce marketplace Flipkart India Pvt. Ltd is reportedly in talks with several investment banks, including the US-based Goldman Sachs Group Inc. to attract investors for a new round of funding.
In a report, the Mint on Friday said that the Bangalore-based company "is now considering appointing an investment bank for the first time in years to try and attract new investors to its next round of funding," quoting sources it didn't name.
An email sent to Flipkart by Techcircle seeking comment on the media report did not elicit a response at the time of filing this report.
The firm last raised funds in 2015 from existing investors led by Tiger Global.
There have been media reports on an impending investment from the world's largest retailer Walmart into Flipkart.
The Mint report said that Flipkart prefers to raise the next round of funding at a valuation of $15 billion.
Earlier this month, two American mutual funds, Fidelity Rutland Square Trust II and Valic Co. had marked down the value of their investment in the company for the second time this year.
According to filings with the US Securities and Exchange Commission (SEC), the mutual fund managed by Fidelity Investments lowered the value of Flipkart shares it owns by 3.2% and Valic marked down the value of its investment in the company by 11.3%.
The latest markdown by Fidelity leaves Flipkart at its lowest valuation at $8.71 billion, but Valic's valuation positions the Indian e-commerce giant at $10.24 billion.
However, in August, both Fidelity and Valic had increased the valuation of their shares in Flipkart by 2.8% and 10%, valuing Flipkart at $9 billion and $11.5 billion respectively.
Overall, Flipkart has suffered eight markdowns so far.
The report also said that, "Flipkart, including its fashion sites Myntra and Jabong, has a burn rate of roughly $40 million per month."
Sources also told Mint that Flipkart has enough cash to last another 18-20 months.
Flipkart also saw a series of top-level exits this year. Last month, CFO Sanjay Baweja had quit in the middle of the festive season sales.
Earlier this year, its chief product officer Punit Soni had resigned without specifying any reason, just after a year after joining.
Baweja's exit was the fourth big exit from Flipkart this year. In another high profile departure, Mukesh Bansal, head of marketplace and a board member, and chief business officer Ankit Nagori had resigned in February.
In August, Flipkart reorganised its team and brought back the firm's key investor Tiger Global's senior executive Kalyan Krishnamurthy to head two major business units.
Krishnamurthy used to be interim CFO at Flipkart before Baweja took charge. The post of CFO at Flipkart had remained vacant from early 2013 to November 2014.
---