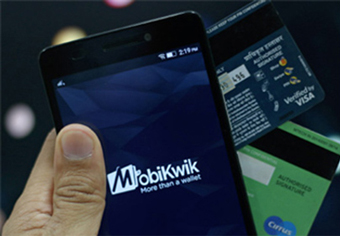 Digital wallet firm MobiKwik on Monday launched a data-light version of its mobile application, targeting smartphone users and small business owners who face challenges of slow Internet connectivity that hampers access to digital payments.
The MobiKwik Lite app's size is as small as 1 MB and it can be downloaded in 30 seconds or by giving a missed call on a phone number, the company said in a statement. No email ID will be required for signing up. The company claims the app will work even with a basic Internet connection.
"Most Indians do not have access to digital payments due to connectivity issues. With 250 million smartphones and less than 50% net penetration, India is highly underserved and the adverse impact of this reality is being observed by masses given the recent demonetization," said Bipin Preet Singh, co-founder, MobiKwik.
Singh was referring to the government's move earlier this month to ban high-denomination bank notes to tackle corruption and tax evasion. But the move has led to a severe cash crunch and prompted many to increasingly use digital payment options such as net banking and mobile wallets such as those offered by MobiKwik and its rival Paytm.
MobiKwik's lighter app came days after Paytm last week launched a point-of-sale app, App PoS, to enable small merchants to accept card payments. Paytm, however, suspended the rollout of the new feature due to security concerns.
MobiKwik said its new app will be available in all major Indian languages by the end of this week. MobiKwik Lite is compatible with Android version 2.3 and above. Users can make and receive payments, pay bills, bank transfers, peer-to-peer transfer, and do recharges.
MobiKwik Lite also lets customers use wallets other than MobiKwik to pay a merchant. Singh told Techcircle the company has tied up with Oxigen wallet, ICICI Bank's Pockets, HDFC Bank's PayZapp and State Bank of India's Buddy wallet.
The service will be free till 31 March. The company didn't disclose the fee structure after that.
The Sequoia Capital-backed company expects nearly 17-18 million offline merchants to download this app by December 31, Singh said. "There are nearly 170-180 million small merchants across the country, and we expect at least 10% to join the platform in the next 30 days...less than that is not going to solve any purpose," he said.
MobiKwik was founded in 2009 by Singh and Upasana Taku. It is backed by Sequoia Capital, American Express, Tree Line Asia and MediaTek, among others.
Advertising spend, targets
Singh said the company is running a major advertising campaign across radio, print and other media. It plans to invest Rs 25 crore over the next three months on the campaign 'MobiKwik Hai Na', he said.
The company's marketing budget is typically $15-20 million a year. This has tripled after demonetisation, Singh said.
MobiKwik, which claims to have 40 million users and 2.5 lakh offline and online merchants, said 30-40% of its merchants are offline. The company said it is recording 1.5 million transactions a day on its platform. That compares with 7 million transactions that arch rival Paytm claims after the government scrapped high-denomination currency notes, which led to a cash crunch in the country and prompted many people to look for digital payment options.
MobiKwik, which expects to be profitable by mid-2018, also said that its partnerships with e-commerce firms have been doing well. "Eighty per cent of our e-commerce partnerships are profitable even after the cash back. Recharge and bills are nearly break-even," Singh said.
The company has also increased its target of gross transaction value 10-fold to $10 billion next year. "We had promised a certain performance to our investors and we were doing much better. And suddenly after this demonetisation, demand has gone up. Whatever targets we had for July 2018, we will be achieving those by July 2017," he added.
---