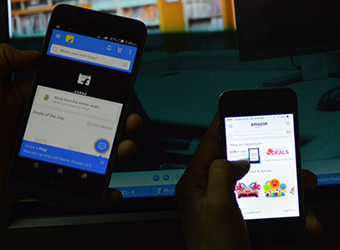 Online e-commerce giants Amazon India and Flipkart were neck and neck in terms of ranking, with the latter a few points ahead in RedSeer Consulting's E-tailing Leadership Index (ELI).
On overall rankings for October 2016, Flipkart was placed at 97, while Amazon India came in at 94.
Amazon India lost out to Flipkart as the most trusted brand garnering a ranking of 21 versus the latter's 23. However, both scored equally on best value and buying experience—25 and 49.
Amazon India has gained thanks to high marketing spend, while Flipkart benefitted from its already strong position as the top e-commerce player.
Amazon's founder and CEO Jeff Bezos had committed $3 billion into India operations, taking the global e-commerce firm's total investment in the country to $5 billion. Amit Agarwal, Amazon India' head, has stated that the Amazon Prime membership programme was the top seller in October and the firm saw its sales increase by 2.7 times during the Diwali sale versus the same period the previous year. The company even put in Rs 7,463 crore in 2015-16 into Amazon Seller Services, as compared to the investment in FY 2014-15, which was at Rs 1,888 crore.
During its Big Billion Days sale, Flipkart sold more units, 15.5 million as compared to Amazon India, which sold 15 million units during its five-day Great Indian Festival; however, the difference is marginal. Snapdeal sold 11 million units during its Unbox Diwali Sale.
The NPS (net promoter score) metric for the current quarter, 25%, was an improvement over previous quarters, 29% in Q2 and 17%, Q1, thanks to the festive sales. However, increased customer expectations impacted the metric.
NPS refers to the likelihood of a customer recommending the services or products of a company to others. This is determined on the basis of customer satisfaction and loyalty to a brand.
Paytm followed Flipkart and Amazon with an overall ranking of 75 for the quarter ended September 2016 and a ranking of 71 for the month. The company has seen significant gains in the current quarter thanks to improved overall experience and marginal gain in NPS.
Snapdeal was close on the heels of Paytm with a Q3 ranking of 74 and a monthly ranking of 75. While Snapdeal came ahead of Paytm on most trusted brand (10 versus 7), it fell behind the wallets firm on buying experience (40 versus 44). However, the two scored equally on best value (24).
Shopclues received an overall Q3 ranking of 58 and was ranked 59 for October 2016. The unicorn firm came ahead of eBay, which was ranked 56 for the quarter and 55 for the month. Both firms have maintained their previous positions. While Shopclues gained from enhanced post-delivery experience, it suffered on brand recall. eBay saw its NPS improve, but its buyer experience declined.
Shopclues became a unicorn earlier this year after it secured Series E funding led by Singapore's sovereign wealth fund GIC Pvt Ltd. In an interaction with Techcircle, ShopClues co-founder and chief executive Sanjay Sethi said that the e-commerce firm will attain EBIDTA (Earnings before Interest, Taxes, Depreciation and Amortization) profitability in the second quarter of next year thanks to higher margins, increasing demand, larger pool of merchants and affordable price points.
RedSeer's E-tailing Leadership Index measures an e-tailer's overall performance on the basis of customer satisfaction. The metrics on which this is based are most trusted brand, best value and buying experience. The most trusted brand is based on a brand's recall frequency, and best value refers to price competitiveness, quality, variety and availability of products; buying experience was measured on the basis of an e-tailer's delivery service, exploring and ordering experience on the website and app, post-delivery experience of consumer and overall NPS.
The survey was conducted across 30 cities (Metros, Tier I and Tier II) on 6,000 customers between August and October 2016. All respondents were e-commerce customers who made purchases in the last three months.
---