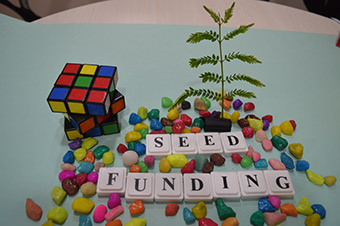 Math Buddy, a Vadodara-based online math learning startup, has raised an undisclosed amount of seed investment from Menterra Social Impact Fund.
The company will use the funds to expand to low-income schools in India and strengthen teacher engagement and training, it said in a statement.
Math Buddy, run by Concept Learning Technologies Pvt. Ltd, was founded in 2007 by Bharathy Bharadwaj and Kannan Bharadwaj. The startup offers schools, through online subscriptions, virtual math labs and interactive products to help children learn math.
"We are also working on vernacular support and local curriculum alignments so that schools from any nook and corner of India can use our product," said co-founder Bharathy Bharadwaj.
The company claims to be present in 200 schools and wants to expand to 2,000 schools over the next three years.
Math Buddy joins a growing list of ed-tech firms that have raised funding this year.
Another firm that focuses on math learning and has recently secured funds is Makkajai Edu Tech Pvt. Ltd. The Pune-based firm secured $250,000 in seed funding from a clutch of investors, including Myntra CEO Ananth Narayanan and former Snapdeal chief product officer Anand Chandrasekaran, in September this year. The startup provides a learning platform for math games for children from grades 1 to 5. Its main products are Monster Math Classic, Monster Math and Monster Math Duels.
Menterra Social Impact Fund I was launched in January 2016. It invests in early-stage social enterprises in the education, health and agriculture sectors. It offers startups funding between Rs 1 crore and Rs 4 crore, and collaborates closely with social enterprise incubator Villgro to support and fund for-profit social enterprises in India.
"We are looking for strong entrepreneurial teams from all corners of the country as long as they demonstrate a deep commitment to creating impact and a desire to build a sustainable and scalable business," said Mukesh Sharma, founder and managing director, Menterra Venture Advisors.
Menterra has also funded skill development company Leap Skills Academy, diagnostics company Biosense Technologies and agribusiness firm NubeSol.
---