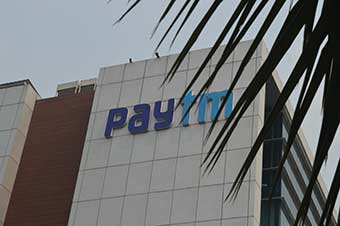 One97 Communications Ltd, the owner of digital wallet Paytm, said on Monday it will merge its wallet business with its upcoming payments bank to comply with Reserve Bank of India's directions.
The digital wallet will be transferred after the company gets necessary regulatory approval to start Paytm Payments Bank Ltd, it said in a blog post on Monday.
Paytm has nearly 150 million users for its wallet business. It is eyeing 200 million accounts within a year of the payment bank's launch, the Mint newspaper said in a report.
In August, the Noida-based company created two separate entities—Paytm E-Commerce Pvt. Ltd and Paytm Payments Bank Ltd—to run its e-commerce and banking services, respectively. The e-commerce marketplace is likely to serve as an entry pad for Chinese online retail giant Alibaba, which is the largest shareholder in One97 Communications.
Paytm founder Vijay Shekhar Sharma will hold a majority share in Paytm Payments Bank as the bank licence was issued in his name. One97 Communications will hold the remaining stake.
A spokeswoman for the company told Techcircle the payments bank will not have any external shareholders. "Our ownership structure is perfectly consistent since we filed the application for payments bank. It is 51% owned by Vijay and 49% by One97 Communications," she said.
Techcircle first reported in August that Alibaba's stake in One97 Communications will be transferred to the e-commerce business, and that Sharma will hold a majority stake in the payments business. NYSE-listed Alibaba Group Holding, along with its financial-services arm Ant Financial, has invested a total of $680 million in One97 Communications to hold a stake of almost 41%.
Paytm Payments Bank, which has missed its launch deadlines, is in the process of obtaining the final licence from the RBI. Two weeks ago, Sharma admitted that there had been a delay in the launch of the payments bank and that he expected the launch to happen anytime between December and January.
Sharma and One97 Communications have together invested Rs 220 crore in Paytm Payments Bank Ltd to date, according to a Mint report in November. The investment could go as high as Rs 400 crore. Out of Rs 220 crore, Sharma has put in Rs 112 crore, the report said.
Paytm, which posted a net loss of Rs 1,548 crore in the financial year ended March 2016 on revenue of Rs 830 crore, expects its payments bank to make money in two years' time.
Sharma was one of 11 applicants who got the RBI's in-principle approval last year to get a payments bank licence. Telecom operator Bharti Airtel Ltd recently launched its payments bank, the first to do so.
---