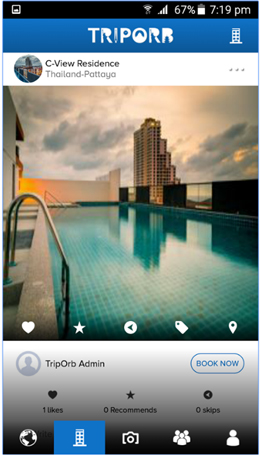 Travel tech startup Triporb, run by Holiday Dreamland Pvt. Ltd., has been selected for Facebook's FbStart programme, which is designed to help early-stage mobile startups build and grow their apps.
The Triporb app allows users to create travel logs for other users to view and follow.
"We noticed that deciding where to go is a huge pain point with users. People tend to travel to places they know of from their peers. So, your knowledge is confined. This is what we are trying to solve through Triporb," Nikhil Shankar Dulhani, who founded the startup in April this year, told Techcircle.
The app also helps a traveler connect with users and engage with them through a chat interface to discuss travel locations, ask for suggestions regarding best time to go and festivals at the location, and make recommendations to others.
The app, which was launched a fortnight back on Google Play Store and iOS store, has an active user base of 505 people.
The Kolhapur-based company will receive services and credits worth $40,000 from Facebook and its more than 30 partners including Amazon, UserTesting, Dropbox and MailChimp, as a part of the programme.
FbStart offers a package of free tools and services designed to help early-stage startups build and grow their mobile apps. The selected startups will also get access to a community of developers, worldwide events and mentorship from the social networking giant.
Any developer who has launched a working mobile app on App Store or Google Play is eligible to apply to FbStart.
The programme provides free access to more than 25 services, including open source tools like React Native, FB Login and Account Kit and App Analytics.
According to newswire agency IANS, India is the largest market for FbStart outside the US. According to Satyajeet Singh, who leads product partnerships for Facebook in India, over 75% of top-grossing apps in the country get integrated with Facebook.
Last week, Mumbai-based used-apparel reselling platform CoutLoot was selected by Facebook for the programme.
Prior to that, Bangalore-based micro learning mobile platform Knudge.me had been selected by the US-based social media behemoth Facebook Inc. for FbStart.
Content discovery social network Flicksup, immunisation management platform vImmune, peer-to-peer content platform of moms and moms-to-be Healofy, and job search and educational content platform JobSenz were selected for the programme recently.
---