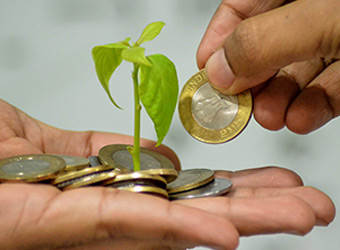 Mumbai-based Pocket Aces Pictures Pvt Ltd, which runs digital entertainment startup Pocket Aces, has raised $3 million (Rs 20 crore) in a round of funding led by venture capital firm Sequoia Capital India, the company announced on Thursday.
Other investors included North Base Media, TV Mohandas Pai-led Aarin Capital, 3one4 Capital, Axilor Ventures, and FreeCharge founders, Kunal Shah and Sandeep Tandon. Pocket Aces was founded in 2014 by Ashwin Suresh and Anirudh Pandita, who were investment banking and private equity professionals.
The company conceptualises, creates and distributes written and video content including web series through its social media and online channels – Dice Media, FilterCopy and Gobble.
Suresh, who has previously worked with Citigroup and set up Times of India Group's Junglee Pictures said in a press statement,"Pocket Aces aims to be a leader in this new ecosystem. We are laying the foundation for the nascent digital entertainment industry in India and look up to companies like Pixar as benchmarks for creative innovation."
The company claimed that "in only 15 months since the release of their first piece of content, Pocket Aces is reaching an audience of over 20 million people on a weekly basis".
The company's brands - FilterCopy, Dice Media, and Gobble have completed over 180 million organic video views on the back of heavy social sharing, the company claimed. According to the firm, the website filtercopy.com is clocking over 3 million page views each month.
T.V. Mohandas Pai, Chairman at Aarin Capital Partners said, "The Pocket Aces team has shown a grounded empathy for their audience's consumption behaviour and tastes, and that reflects in the continuous feedback loops they've built to rigorously improve their production and narrative quality. We are tremendously excited to be working with them to help push for the evolution of content consumption online, and we're looking forward to the many more creative ideas to be released by the team."
Before entering the Indian entertainment industry, Suresh worked in investment banking and private equity at Citigroup and StepStone Global in New York. Ashwin holds a BS and MS in electrical engineering from the University of Illinois as well as a diploma in filmmaking from the New York Film Academy.
Pandita was at Valo Group LLC, a hedge fund based in Philadelphia. Previously, he worked in investment banking and private equity at Goldman Sachs, Bank of America, and Istithmar World Capital in New York, London, and Dubai.
Anirudh holds a BS in Electrical Engineering from the University of Illinois and an MBA in Finance from the Wharton School of the University of Pennsylvania.
In June, Hyderabad-based digital and entertainment startup SillyMonks Entertainment Pvt. Ltd had raised around $448,000 (Rs 3 crore) from high-net-worth individual Sreenivasa Reddy Musani.
---