Saksoft to buy majority stake in DreamOrbit to strengthen IoT play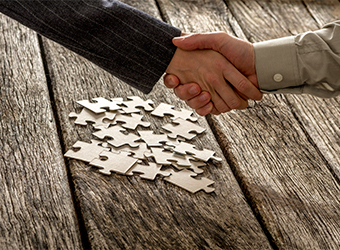 Chennai-based IT company Saksoft Ltd has agreed to acquire a 60% stake in Bengaluru-headquartered Internet of Things (IoT) startup DreamOrbit Softech Pvt Ltd for an undisclosed amount.
DreamOrbit, focused on the logistics and transportation industries, develops software for logistics services providers including for freight and supply chain management.
With this acquisition, Saksoft hopes to strengthen its offerings in IoT, the company said in a press statement.

Founded by Sanchit Jain and Abhishek Porwal in 2010, DreamOrbit employs 230 people in its offices in Bengaluru and Delaware.
Jain, an IIT-Roorkee graduate, has previously worked with Tata Consultancy Services and Aditi Technologies. Porwal, an IIT-Delhi alumnus, earlier worked with Infosys and Aditi Technologies. Before founding DreamOrbit, the duo started and sold CircleSource Software Technologies, a healthcare-focused technology firm.
DreamOrbit's target customers are trucking companies, warehouses, third-party logistics companies and hyperlocal and last-mile delivery firms. Based on the client's requirements, it first creates the architecture of the solution, sources hardware devices such as SIM cards from vendors like Garmin, and then builds the software solution around the device.

The company has around 70 enterprise clients across the world. The US makes up 90% of its customer base while Scandinavia, New Zealand, Australia and India contribute the remaining. US firms GlobalTranz, 10-4 Systems Inc and Crane Worldwide Logistics are some of its clients.
"With this acquisition, Saksoft has strengthened its offering in the IoT space. Also, we have added a very capable team of founders to enhance Saksoft's overall delivery organisation," Aditya Krishna, chairman and managing director of Saksoft said.
Niraj Ganeriwal, chief financial officer at Saksoft, said the acquisition will happen in a phased manner and will be completed by 2019.

Founded in 1999, Saksoft is a small-sized IT firm which offers technology solutions in areas such as information management, web development and business application testing. It caters to financial services, telecom and public-sector clients. It also has offices in the UK, the US, Germany and Singapore. The company went public in 2005.
In June this year, the company had increased its stake in software testing services firm 360Logica to 76% from 51% for Rs 8 crore ($1.2 million) in cash, and in January last year the publicly listed firm acquired 51% stake in the Noida-headquartered firm for an undisclosed amount.
In January 2013, the company had acquired US-based business intelligence and information management company Electronic Data Professionals Inc for an undisclosed amount.

---