Fin-tech leads the way as service-enabling startups dominate in 2016
Service-enabling tech startups ruled the roost in 2016 with fin-tech, health-tech and ed-tech companies garnering the highest share of investments.
Financial-technology startups led investments in early-stage ventures this year with 51 deals, according to a report from VCCEdge, the data research platform of News Corp VCCircle.
However, overall deal-making has slowed significantly. The total number of startups that got funding this year fell more than a fourth (27.5%) from last year while the total disclosed value of funding deals dropped almost 42%, show the data collated until 16 December.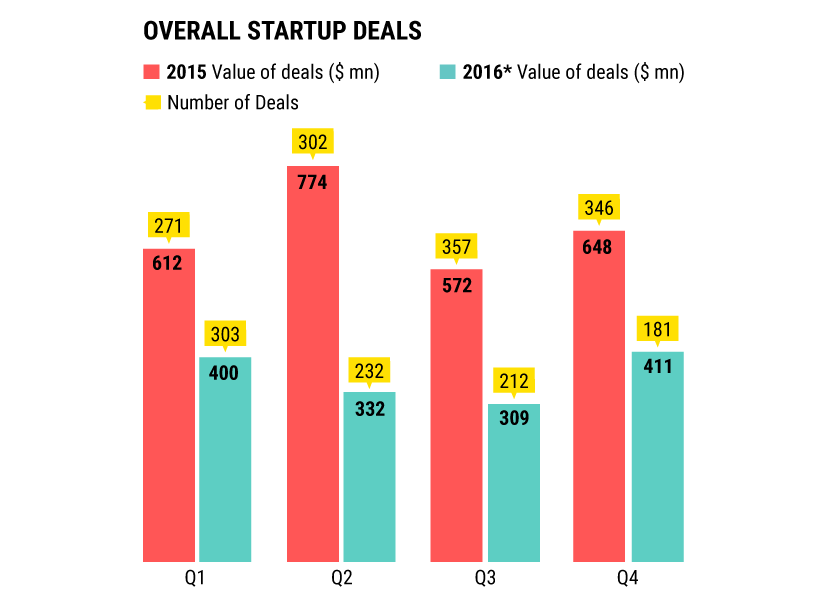 Nita Kapoor, chief executive of News Corp-owned The VCCircle Network, says tech startups are reflecting the offline world in several ways.
"We are already a service economy. Be it ed-tech or health-tech or fin-tech…70% to 80% of the capital is going into consumer tech. These startups are improving either the front-end or the back-end services of a business. They are getting ready for a bigger game," said Kapoor.
To be sure, India's services sector contributed about 61% to the country's gross domestic product in 2015-16, registering growth of 10% year-on-year, according to a report published by industry body Confederation of Indian Industry and consultancy KPMG. India is the second-fastest-growing services economy in the world, the report said.
Metro cities lead as funding destinations. The National Capital Region (NCR) topped the list, recording 268 deals, followed by Bengaluru with 208 deals and Mumbai with 136 transactions. Hyderabad saw 27 deals while Chennai recorded 22 transactions.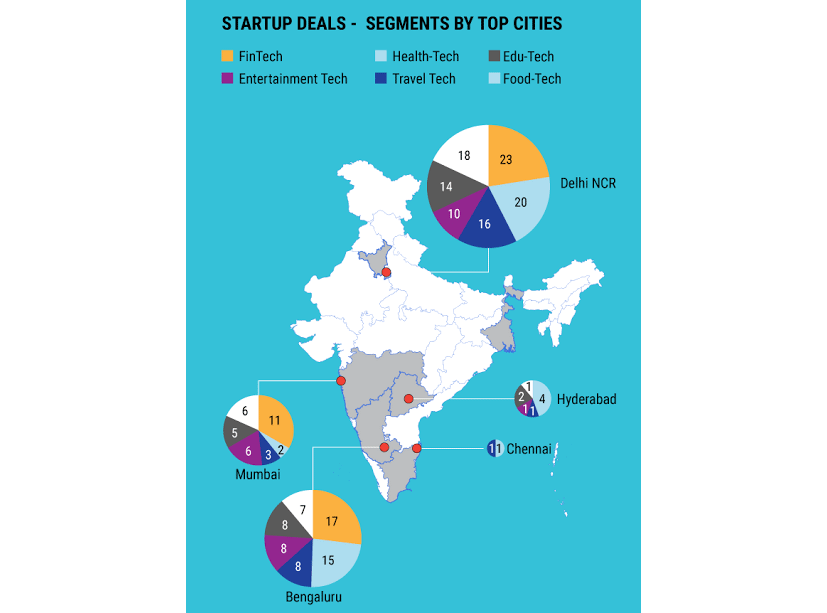 "Entrepreneurship is not going much beyond metros and this is worrisome is many ways. Will metros have a banyan tree effect on startups?" asks Kapoor. A banyan tree does not let even a blade of grass grow under it.
The year 2016 has not been easy for startups. After the frenzied investment activity in 2015, this year offered a reality check as a funding crunch tightened the noose on startups with no clear business model or differentiation from rival ventures.
At least 32 startups reported shutting down their operations in the first 11 months of 2016 compared with 17 in all of 2015, according to a Techcircle analysis. This means one startup closed shop every 10 days in India this year.
Food-tech and hyperlocal startups led the list of casualties that also included ventures from e-commerce, Big Data, mobile software, transport and travel-tech. Poor unit economics was one of the main reasons for some of these startups to give up.
Several startups struggled as investors tightened their purse strings either because they were not convinced about a business model or were looking to monetize their existing portfolio. In fact, funding crunch became one of the most heard terms this year.
Kapoor says 2016 was to be a lacklustre year for startups and that several factors contributed to it. "It's a question of macro-economic indicators; inflation was high and consumption was not picking up. We were anchoring on a good rainfall and it happened and we thought the markets will pick up. And the markets did pick up; business accelerated due to Diwali. But then came demonetisation and now the next two quarters look bleak," she says.
Some of the largest investments this year include Lendingkart Technologies Pvt Ltd raising $32 from India Quotient, Samaa Capital and others and Eywa Pharma Pte Ltd raising $30 million from investors including private equity firms Eight Roads Ventures India and US-based F-Prime Capital Partners.
Comment(s)