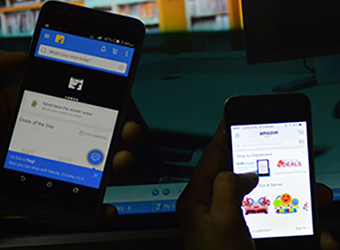 Indian e-commerce heavyweights Flipkart and Amazon India are aggressively focusing on the high-margin fashion segment as they aim for profitability in the long run.
Both Amazon India and Flipkart are expanding their private labels in addition to exploring more exclusive brand partnerships to open up more revenue opportunities in fashion, one of the fastest growing segments in e-commerce along with consumer electronics, according to a Mint report.
Amazon, which has been inking partnerships with a number of brands including Arrow, Swarovski and Aeropostale, is planning to introduce more private labels to create a solid identity in the online fashion segment that is largely ruled by Flipkart. Flipkart along with its subsidiaries Myntra and Jabong controls 70% of the online fashion retail market in India.
The publication had earlier reported that Amazon hired a couple of top executives such as former Myntra chief creative officer Gautam Kotamraju to strengthen its private label business. The company launched its first private brand christened Symbol in September.
"You should definitely expect more product lines because these are currently a western-wear brand and an ethnic-wear brand. There are many products that we haven't yet launched but are slated to," Arun Sirdeshmukh, head of fashion at Amazon India, was quoted as saying to the newspaper.
The report further said the Indian arm of the US-based online retailer will run an end-of-season sale event in fashion in addition to launching a number of new categories in women's fashion in the coming months.
Meanwhile, Flipkart recently said it expects its fashion business to turn profitable by the middle of the next financial year.
"We will be getting into fiscal year 2018 with a growth tailwind, while we entered FY17 with zero growth," Flipkart's chief executive Binny Bansal was quoted as saying in The Economic Times.
Flipkart Fashion includes Myntra and Jabong (which it had acquired for $70 million in July). It accounted for nearly a third of gross sales for the e-commerce firm in the September quarter.
Flipkart has also been increasing its focus on private labels, which offer higher margins. While e-tailers make gross margins of 35% to 45% on regular brands, it can be as high as 60% to 65% for private brands.
In July, Flipkart-owned Myntra bought a majority stake in fitness and sportswear brand HRX, launched by actor Hrithik Roshan, to boost its private labels business. Myntra owns 11 private labels, including Roadster, All About You, HRX, Wrogn, Anouk and Ether. Most of these private labels were launched in partnership with celebrities who co-own these brands. All About You is a tie-up with actor Deepika Padukone and Wrogn with cricketer Virat Kohli. Private labels accounted for 20% of the firm's gross sales in 2015.
Myntra had earlier said it expects to hit a revenue run rate of $2 billion, achieve profitability and 60% net promoter score (NPS) by FY18. Myntra continues to focus on its private labels, which amounts to close to 23% of its overall business currently. "Private labels used to be about 20% on our platform, which is now about 23% and our goal is to take it to 30%," Ananth Narayanan, chief executive of Myntra and Jabong said at a press meet in Bengaluru early this month.
---