Flashback 2016: C-suite reshuffle, legal tangle mark year of upheavals at Mu Sigma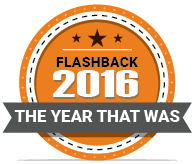 One of India's earliest unicorns, Mu Sigma Inc. saw everything from controversy to exits to legal drama in the last 12 months. The company, which has raised $211 million so far from investors such as MasterCard, Sequoia Capital and General Atlantic, is valued around $1.5 billion and is the only profitable unicorn in the country.
The big data analytics company witnessed a challenging year after relations soured between the founder and his wife (who was chief executive of the company for a few months), resulting in shifts in top management and senior-level exits. Mu Sigma, which employs nearly 3,500 people and posted revenues of about $250 million in 2014-15, saw the departure of at least half-a-dozen senior executives.
The first flashes of fire were seen in February 2016 when Dhiraj Rajaram, then CEO, announced the appointment of his wife Ambiga Subramanian as the new chief executive of the company. Rajaram sent an open letter to Mu Sigma employees announcing his relocation to the US to spend more time with the company's customers.

"Don't think you can get rid of me that easily. I will be hanging around, continuing to make your life difficult with crazy ideas. In fact, you should expect more ideas as a result of this move. And who knows, there may be a time for me to take on the CEO role again," said Rajaram, almost hinting at the future of the company.
Weeks after the company got its new CEO, Patrick Ryan, one of the earliest backers of Mu Sigma, dragged the firm to court over 'downplaying' its prospects to buy back his stake.
Ryan alleged that Mu Sigma founder Rajaram 'grossly misled' his investment firm Walworth Investments LLC about the prospects of the data analytics firm when it was doing well.

Not even three months had passed with Ambiga at the helm of the billion-dollar firm and the cracks became public. Rajaram and Subramanian got divorced, raising serious questions on the future of the company.
Rajaram then told The Economic Times that the company's investors had been apprised of the difficulty in the marriage six months ago, and employees had known of it for the last three months.
The duo said in separate conversations with The Economic Times that the move was unlikely to have any impact on the running of the company.

Rajaram told the paper that Ambiga will continue in the current role as of now, but may not remain CEO in the long run.
It was a matter of time before various reports emerged saying Ambiga was in negotiations to sell her stake in Mu Sigma and planning to start her own venture.
In October 2016, Mu Sigma in a press conference declared that Rajaram was back as CEO and Subramanian had sold her entire stake to him, leaving him with a controlling stake of 51.6% on an undiluted basis. An emotional and animated Rajaram said in front of his employees that the past few months "have been hard, personally."

"I have a 13-year-old boy who reads newspapers. It had been made more public than I would have loved to," said Rajaram.
Days later, Sandeep Naik, head of General Atlantic's India and Asia- Pacific business, told VCCircle that General Atlantic had complete faith in Rajaram's leadership. "We look forward to working with Dhiraj and his team to further help scale Mu Sigma and help it retain its clear leadership position in the data analytics space," Naik said, reassuring the PE firm's faith in Mu Sigma.
---