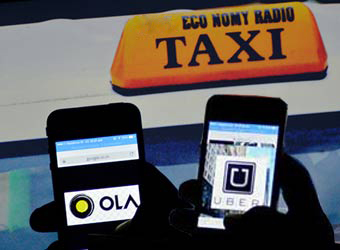 App-based taxi drivers' concerns around falling incomes and preferential treatment to leased cabs seem to be spreading to more cities. The latest wave of protests began in Hyderabad on December 30, when a vast majority of cab drivers belonging to Ola and Uber called for a five-day strike against declining earnings and fewer bookings.
Uber and Ola employ around 1 lakh drivers in Hyderabad and the majority of them have joined the protests. According to a Business Standard report, a number of drivers' associations, including Telangana State Cabs and Bus Operators Association (TSCBOA), Telangana State Cab Owners and Drivers Association (TSCODA) and Telangana Cabs Association (TCA), are organising the strike.
The drivers allege that their incomes have drastically reduced in recent months as the taxi-hailing firms continue to acquire more cabs. The report also said, quoting these associations, that the drivers are demanding that new registrations be stopped as they are finding it hard to generate any meaningful business.
Another point of contention is the alleged preferential treatment to leased cabs, wherein the cab companies offer more rides to newly registered drivers who are part of the cab-leasing programme.
What added fuel to the fire was the alleged manhandling of some protesting drivers at Ola's Kukatpally office. TSCBOA president Syed Nizamuddin claimed a similar incident happened at Uber's Madhapur office.
Meanwhile, various media reports have suggested that members belonging to some of these associations have been forcibly stopping Uber and Ola cabs plying on the roads.
"We condemn the forceful disruption to our services in Hyderabad by a small group of people who have threatened drivers and damaged vehicles, inconveniencing riders and preventing people from earning a livelihood. We remain committed to serving the city, and call upon authorities to ensure safety and continued operation of our services so that we can keep Hyderabad moving," said an Uber spokesperson.
Ola did not comment on the development.
App-based taxi providers operate a car-leasing programme that allows drivers to run a car on lease and earn Rs 60,000-70,000 per month. Hundreds of new drivers were on-boarded for this recently. However, as the number grew, the existing drivers find it difficult to secure enough bookings and their incomes have drastically reduced.
In November, drivers of Ola and Uber staged a 36-hour-long strike in Guwahati to protest against falling incomes. According to a report by news agency ANI, around 12,000 cabs were off the road in the city during the protest. They also alleged that drivers who take cars on lease do not have to comply with the 'minimum business guarantee' agreement, which significantly reduces their cost of operations, while drivers who attach their cars directly to the taxi-hailing firms do not enjoy that benefit.
"Our demands should be fulfilled because our earnings have dropped. Their commitment proved to be fake. Their commitment was Rs 75,000 per month but we are hardly earning Rs 10,000-15,000 with which we can't do anything. I can't even pay my EMI. They should immediately stop getting cars and the scheme should be ended," a driver was quoted as telling ANI.
On December 28, drivers of cab-hailing companies had staged a protest at the Kempegowda International Airport, Bangalore against the flat rates charged by these companies.
In July this year, a group of Ola drivers in Mysuru called for a three-day-long strike against alleged exploitation by the firm, according to a report in The Hindu. Another report in the same newspaper said drivers of Ola and Uber in Kochi had planned an indefinite strike demanding revision of wages and employment guarantee.
There were also reports of drivers in Delhi-NCR protesting against non-payment of incentives and other expenses by Ola and Uber.
---