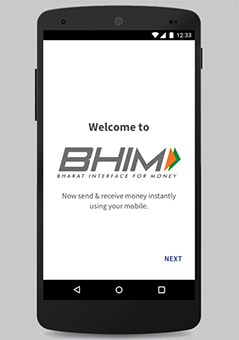 It's not even been a week since the BHIM (Bharat Interface for Money) app was launched by Prime Minister Narendra Modi, and it has already crossed 3 million downloads. It has also facilitated half a million transactions, according to a tweet by NITI Aayog chief executive officer Amitabh Kant.
Developed by the National Payments Corporation of India (NPCI), BHIM is currently available to download on Google Play. The iOS version of the app is expected to be launched soon.
BHIM is based on the Unified Payments Interface (UPI) platform, which links directly with your bank account. Using UPI, one can pay/transfer money without remembering one's bank account details and other information. BHIM doesn't store any money, and users can carry out transactions using the receiver's mobile number or UPI pin, or by scanning the QR code.
Currently, BHIM can link up to 30 banks, including all major players such as Standard Chartered Bank, State Bank of India, Syndicate Bank, IDFC Bank, Indian Bank, Indian Overseas Bank, IndusInd Bank, Karnataka Bank and HDFC Bank.
Setting up BHIM
A top-rated free app on Google Play, BHIM is relatively small at 1.9 MB, so it downloads quickly. Users, however, need to be cautious while installing the app as Google Play is flooded with apps having similar names.
Once downloaded, the app requests the user to select the language of their choice, between English and Hindi. The app later seeks various permissions and verifies the user's phone number, which is linked to their bank account.
Verification happens in a couple of seconds, after which the app prompts the user to register a four-digit passcode that is required every time the user wishes to use the app. The app will ask for the passcode even you if exit it for a second to read a text message in the background, or if you leave it inactive for a minute, which is a great feature for added security.
Once the passcode is set, the user is requested to select their bank. BHIM automatically fetches your bank account details using the mobile number provided. The limitation here is that a user can only add a single bank account to transact at the moment. However, users have the option of switching to a different bank account provided the new bank account is linked to the same mobile number.
Minimalistic interface
The interface is clean and steers clear of unnecessary clutter, and the home page has menu options including 'send', 'request' and 'scan & pay'. It also has 'transactions', 'profile' and 'bank account' tabs at the bottom. Under the 'transactions' tab, users can access history of all pending and completed transactions.
Under the 'bank account' tab, users can reset and change the UPI PIN and also change the bank account. Note that UPI PIN is different from the app passcode. UPI PIN is used to authorise a transaction while passcode is used to access the app. Initially, we faced some difficulty in changing the UPI PIN as the app repeatedly returned error messages. Finally, our third attempt was successful.
All in all
The app gets brownie points for a simple, easy-to-use and confusion-free layout and command options. Its small size will ensure that the app-retention rate remains high.
Once the set-up is completed, sending money to other users is fast and hassle-free, taking less than 10 seconds.
BHIM's clincher is that the money is directly debited and credited to the user's account without an added layer of a third-party wallet. Also, in case of wallet transactions, both users are required to have wallets of the same company, which creates an additional barrier.
Minor bugs and errors aside, BHIM is fast, intuitive and surely a step in the right direction.
---