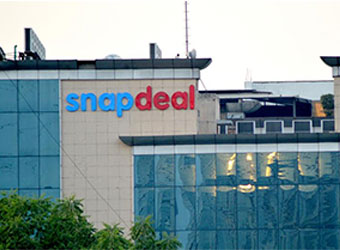 Jasper Infotech Pvt. Ltd, which runs online marketplace Snapdeal, more than doubled its losses to Rs 2,960 crore (around $436 million) in the financial year ended 31 March 2016.
Its total revenues went up by 56% to Rs 1,456.6 crore in FY2015-16. It had garnered revenues of Rs 933.3 crore with a net loss of Rs 1,319.2 crore in the previous financial year, according to filings with the Registrar of Companies.
The company's net operational revenues went up to Rs 1,158.9 crore from Rs 766.4 crore.
The firm's consolidated loss grew to Rs 3,315 crore from Rs 1,328 crore in FY2014-15. This implies that the firm lost Rs 9 crore every day in the past year.
In an emailed response to Techcircle, a Snapdeal spokesperson said, "In FY2015-16, we invested our capital in building our capabilities across technology, logistics and seller ecosystem to support the long-term growth of our business."
Snapdeal-owned digital payments firm FreeCharge clocked losses of Rs 270 crore, while its logistics firm Vulcan Express netted losses of Rs 20 crore. Gojavas, where Snapdeal owns a 49.9% stake, saw losses of Rs 70 crore. The company's TV shopping joint venture with DEN Networks witnessed losses of Rs 45 crore in FY2015-16.
The firm's employee benefit expenses tripled to Rs 911.1 crore from Rs 367.2 crore.
Snapdeal's provision for bad debts increased significantly to Rs 303.9 crore in the last financial year from Rs 9.6 crore in the previous year. Advertising promotional expenses and packing expenses increased 22% to Rs 574 crore.
In September 2015, Snapdeal had acquired US-based Reduce Data Inc, a startup that runs a programmatic display advertising platform. The documents filed with the Registrar of Companies show that the acquisition was made for just $0.05 or around Rs 3.
Snapdeal's competitors Flipkart and Amazon also saw their losses double in the last financial year.
The net loss of Flipkart Internet Pvt. Ltd, which operates e-commerce major Flipkart, doubled to Rs 2,306 crore in the financial year ended 31 March 2016, compared with Rs 1,096 crore in the year-ago period.
However, Flipkart's loss is not directly comparable as it has several subsidiaries. Flipkart Pvt. Ltd, the Singapore-based holding company, reported a net loss of Rs 5,768.8 crore for the year ended 31 March 2016, up 86% from a year earlier, tech news website Factor Daily reported, citing the e-tailer's annual report filed with Singapore authorities.
---