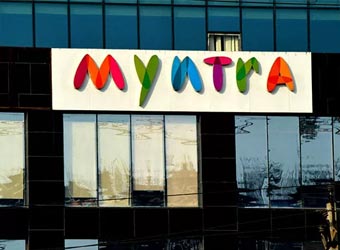 Vector E-commerce Pvt Ltd, the biggest seller on online fashion marketplace Myntra, posted a loss of Rs 8.72 crore in FY16 after turning a profit in the last two financial years, filings with the Registrar of Companies (RoC) show. Profit after tax stood at around Rs 6.5 lakh in FY15.
Revenue, however, grew from Rs 1,252 crore in FY15 to Rs 1,747 crore in FY16, growth of 40%.
The filings said, "The year under review witnessed intense competition in the e-commerce space and accordingly the operational costs of the company have significantly gone up."
In an emailed response to Techcircle, a Myntra spokesperson said: "The results/revenues of any single seller do not represent the company's (Myntra's) growth. Myntra has been growing steadily year on year at 65% and is on course to achieving its target $ 2-billion GMV and profitability by the end of FY17-18."
Vector E-commerce works as a distributor of Myntra's products since foreign direct investment (FDI) in multi-brand B2C e-commerce is not allowed in India. Its product range includes footwear, apparel, accessories, jewellery and watches, among other things.
The RoC document also added that the company "is in the process of scaling up its operations, which the management believes would help your company (Vector) is (sic) deriving economies of scale and lead to better profitability."
"With a view to enhance its margins and profitability, the company (Vector) is actively engaged in tying up with emerging brands which yield better margins in the retail segment when compared to established brands," the document added.
Flipkart-owned Myntra posted a revenue of Rs 1,069 crore for FY16, registering 38% year-on-year growth. Losses widened from Rs 741 crore to Rs 816 crore, however, according to regulatory filings. The sales growth of 38% was a sharp fall from the 75% growth Myntra witnessed in the previous two years, apparently due to its decision to go app-only in May 2015. It dropped that strategy and re-launched its desktop site in June 2016.
Myntra had earlier said that it expects to hit a revenue run rate of $2 billion, achieve profitability and 60% net promoter score (NPS) by FY18. It continues to focus on its private labels, which contribute close to 23% of its overall business currently.
Myntra's parent Flipkart expects its fashion business to turn profitable by the middle of next financial year.
In July this year, Myntra had agreed to acquire its main competitor Jabong from Global Fashion Group for $70 million (Rs 470 crore) in cash. Flipkart Fashion, Myntra and Jabong accounted for nearly a third of gross sales for the e-commerce firm in the September quarter.
Myntra CEO Ananth Narayanan had told Techcircle in August that both Myntra and Jabong would run as separate entities but leverage each other's strengths, wherever possible.
Flipkart's biggest rival Amazon has also renewed its focus on the fashion sector. Earlier this month, the e-commerce giant launched its second in-house private fashion label, ethnic womenswear brand Myx. Prior to that, it had launched in-house private fashion label Symbol for men, in September.
---