Bike taxi operator Rapido rebrands rider app to ramp up network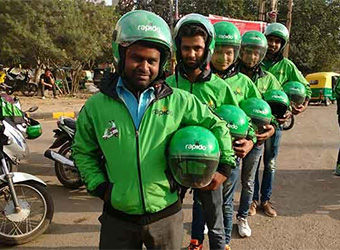 Bike taxi operator Rapido has rebranded its rider app to Rapido Captain as it looks to get more riders on its network and strengthen its positioning as a pooling platform. The app was earlier called Rapido Partner.
Using Rapido Captain, riders can join the startup's bike-pooling network. The customer-facing side of the app, however, will continue to be known as Rapido.
"The reason behind doing so is to change customer perception about the riders. Rapido differs from a typical taxi platform and is more of a pooling platform, meaning the riders don't necessarily work full-time as Rapido riders only. Your typical Rapido riders could be sales/marketing executives, BPO employees, students—basically anyone who loves to ride a bike and is looking to earn a few extra bucks," said Pavan Guntupalli, co-founder, Rapido.

The startup, which operates in Bangalore and Gurgaon, claims to have over 5,000 registered riders on its platform doing 2,500 rides a day.
Rapido doesn't have a norm for minimum working hours for riders. "With the help of the pooling option, one can be a rider on Rapido for as little as an hour," Guntupalli added.
In a bid to improve unit economics, Rapido had added bike-pooling to its offerings towards the end of last year. It now offers both bike-pooling and regular bike taxis to consumers looking to hail two-wheeler rides.

The new business strategy comes in the wake of a fund-raising plan. In an interaction with Techcircle in December, Rapido co-founder Aravind Sanka said its existing investors, including advantEdge, have already committed the next round of investment.
"We led the last round and would be participating in this round as well. We have started getting commitments from other investors also and hope to have it wrapped up soon," Kunal Khattar, general partner at advantEdge, had confirmed to Techcircle.
In April, the company had raised an undisclosed amount in pre-Series A funding from investors including Hero MotoCorp Ltd chairman Pawan Munjal and Google India managing director Rajan Anandan. The round also saw participation from advantEdge Partners, Astarc Ventures and Tesellate Ventures, People Group chief executive Anupam Mittal, Smile Group founder Harish Bahl, former Flipkart chief business officer Ankit Nagori and Carnation Auto co-founder Kunal Khattar.

Rapido, run by Roppen Transportation Services Pvt. Ltd., was founded by IIT alumni Sanka, Guntupalli and Rishikesh SR in November 2015.
The company is also exploring a model where, if a bike is idle, the rider can do tasks such as e-commerce delivery and personal errands.
India is one of the largest two-wheeler markets in the world, and 2015 saw a proliferation of bike taxi startups in Gurgaon, Noida and Bangalore.

As many as 40 app-based companies are estimated to have started bike taxi operations in various Indian cities. These include MTaxi, Bikxie, Baxi, TuWheelz, Mobike and NOW. US-based cab-hailing firm Uber Technologies Inc. and its main Indian rival Ola have also started bike taxi services in some cities.
---