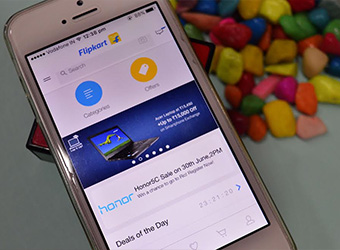 The tussle between Flipkart's digital wallet PhonePe and ICICI Bank over the UPI payments issue has taken the form of a public spat, with the startup's founder and CEO Sameer Nigam accusing the country's biggest private-sector lender of "flexing its muscle to overcome what they believe is competition."
On Saturday, PhonePe had halted payments through the UPI option on the Flipkart app after National Payments Corporation of India (NPCI) reversed its stand in its dispute with ICICI Bank, asking the digital wallet to adhere to interoperability norms. NPCI, the umbrella organisation for all retail payments systems in India, had earlier asked ICICI to unblock the app, but the bank stood its ground saying it will do so only after PhonePe adheres to the UPI guidelines.
In his official blog, Nigam also said, "(ICICI) making a press statement that data security is a concern without having reached out to any of the parties involved (YES Bank, PhonePe and/or NPCI) is nothing short of scaring our consumers without reason."
PhonePe had launched UPI-based payment support for Flipkart and Myntra in October 2016.
Responding to ICICI's accusations of "restrictive practice", Nigam clarified in the blog that PhonePe "always allowed a user to choose to pay using any virtual payment address (VPA) and conclude the payment on ANY another UPI app such as Pockets, BHIM etc."
"We believe the main issue relates to a rather unfortunate misunderstanding on where and when the inter-operability guidelines themselves come into play," he added.
E-commerce giant Flipkart had acquired Bangalore-based mobile payments company PhonePe Internet Pvt Ltd in April last year. PhonePe was founded by Nigam and Rahul Chari, former Flipkart employees.
Last week, PhonePe claimed it crossed the 10-million-download mark on Google Play.
This is the second time that a major bank has blocked services of a digital payments firm. Last year, mobile wallet Paytm had run into trouble with State Bank of India, the country's largest lender.
---