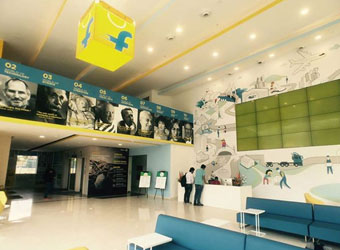 E-commerce company Flipkart could be preparing to raise a new round of investment at a significantly lower valuation than its previous fundraising exercise, a media report said.
Flipkart is likely to raise Rs 3,400-5,400 crore ($500-800 million) at a valuation of $10-12 billion, The Economic Times reported citing two unnamed sources. This is a far cry from its peak valuation of $15.2 billion in 2015.
The so-called down round would come after a management restructuring that brought an investor-nominee CEO at the helm of affairs at Flipkart and several valuation markdowns by some of the company's mutual fund investors.
The report also said that Flipkart will slash spending to lower the monthly cash burn to about $20 million from nearly $45 million about six months ago.
In addition, the report said Flipkart is in talks with US-based online selling platform eBay Inc. to raise its next round of investment after talks with American offline and online retailer Walmart Stores failed to yield results.
eBay entered India after acquiring Bazee.com in 2004, much before Flipkart or Amazon started business in the country. The company owns an about 6% stake in Flipkart's rival Snapdeal.
Meanwhile, a recent news report by The Hindu BusinessLine said the Flipkart board had "decided to make the company IPO-ready in 18-24 months" and that some investors were apparently keen for a full sell-off depending on valuation and market conditions.
A down round has been speculated for Flipkart for several months now, considering its current financial position and ultra-competitive market demands.
Mahesh Murthy, founder of Pinstorm and co-founder of Seedfund, had said in a blog post on VCCircle as far back as May 2016 that Flipkart would raise money in a down round and that neither existing investors nor new ones would support "nose-bleed" levels of valuation.
Flipkart had a tumultuous 2016. The company struggled with exits of many top-level executives and a markdown in its valuation about a dozen times. Most recently, a mutual fund managed by Fidelity Investments lowered the value of its investment in Flipkart by 36% to $5.56 billion. Morgan Stanley valued Flipkart at $5.57 billion in September 2016.
The latest valuation resetting comes on the heels of a major organisational restructuring in the second week of this month, when Flipkart appointed Kalyan Krishnamurthy, a former Tiger Global executive, as its new chief executive officer and made co-founder Binny Bansal group CEO.
The top-level shuffle, which comes exactly a year after Binny Bansal was made CEO, signals that the company is still striving to set the house in order even as it fights a tough battle against Amazon in online retailing.
---