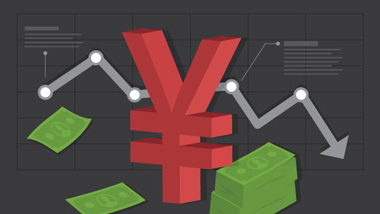 Japanese telecom and Internet giant SoftBank Group Corp has reported a valuation loss of ¥39.3 billon (nearly $350 million) from its financial instruments for the nine-month period ended December 31, 2016, largely due to a decline in fair value of preferred stock investment, primarily in India.
The loss would have been higher but for a gain of ¥16.13 billion due to fluctuation in foreign exchange rates, SoftBank said on Wednesday, announcing its nine-month results.
Excluding the gain, the valuation loss for the nine-month period would have been around ¥55.4 billion, still lower than the ¥58.1 billion loss it reported for the April-September 2016 period.
The nine-month valuation loss compares with a gain of ¥108.4 billion ($965.1 million) that SoftBank had reported for the year-earlier period.
SoftBank said that the loss arising from financial instruments comprises mainly of changes in the fair value of preferred stock investment, including embedded derivatives, in companies including ANI Technologies Pvt. Ltd and Jasper Infotech Pvt. Ltd in India.
ANI Technologies operates cab-hailing firm Ola while Jasper runs e-commerce marketplace Snapdeal.
SoftBank had reported losses from financial instruments after the yen appreciated against major currencies such as the dollar earlier in 2016, especially after Britain's decision to leave the European Union. The dollar dropped to as low as 99 yen last year but has now bounced back to around 112 yen.
In the first quarter ended 30 June, SoftBank had booked a loss of ¥30.2 billion from the decline in fair value of Snapdeal and Ola, mainly due to the yen's appreciation. In November, SoftBank again marked down the value of its investments in Ola and Snapdeal.
SoftBank did not give a breakdown on the fair value of ANI Technologies and Jasper for the nine-month period. It also did not disclose the decline in the value of other investments.
A spokesperson for SoftBank said that valuations of its portfolio companies are "often driven by intricacies of accounting practices and currency fluctuations", and shouldn't necessarily be seen as a reflection of their performance. "Our major investments, including Snapdeal and Ola, continue to be recorded on our books at a value in excess of our blended cost basis," the spokesperson said.
Besides Ola and Snapdeal, SoftBank is an investor in Grofers, Housing, Hike and InMobi.
In fact, of its seven portfolio firms, four—Hike, Ola, Snapdeal and InMobi—are unicorns, meaning each of them is valued at more than $1 billion. Overall, SoftBank has invested nearly $2.8 billion in India so far, according to VCCEdge, the data research arm of News Corp VCCircle.
In December, SoftBank chairman and managing director Masayoshi Son, who was on a visit to India, said that he was bullish on India and that he believed he would surpass his commitment of investing $10 billion in India in 10 years.
In October, the company launched the $100-billion SoftBank Vision Fund in a tie-up with the Public Investment Fund of Saudi Arabia to invest in technology companies globally. SoftBank would pool in $25 billion while the sovereign wealth fund would chip in with $45 billion. The rest was to be raised from other investors. SoftBank named India-born Rajeev Misra as head of this ambitious fund.
---