Uber, Ola drivers go on strike in Delhi; demand better incentives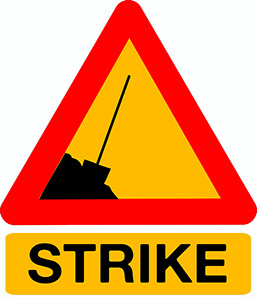 Just as app-based taxi drivers' agitation over falling incomes is fast spreading to more Indian cities, drivers of cab-hailing companies Uber and Ola started an indefinite strike in the national capital from Friday to protest against the unfriendly policies of their employers.
The protest comes weeks after drivers belonging to Uber and Ola staged similar strikes in Bangalore and Hyderabad. The drivers across the regions echo the same demands - better incentives and more bookings.
"When they started, they offered us good incentives, so everyone was excited to come on board. But, now they have stopped incentives. This is hurting us badly. We took loans, thinking this is how things will be. They have changed their schemes now and we are finding it hard to pay the instalments (EMIs)," Sanjeev, a driver with Uber, told Techcircle.in.

According to several media reports, Sarvodaya Driver Association of Delhi, a registered NGO that claims to have over 2,000 members, has called for an agitation and asked the drivers to not run for the app-based taxi services unless their demands are met. Thousands of people across NCR are affected by the agitation and many have taken it to social media platforms, reporting unavailability of cabs, skyrocketing rates and protesting drivers forcibly stopping rides.
The protesters are demanding better perks, unrestricted hours to meet targets, accident insurance and an increase in the minimum charge of Rs 6 per kilometre, which both Ola and Uber charge currently, a Business Standard report said.
Members of Sarvodaya Driver Association of Delhi expect about 40,000 to 50,000 cab drivers to take part in the indefinite agitation. Some members are also planning to go on hunger strike to get their grievances addressed, the report said.

Ravi Rathore, senior executive member at the association, told the publication that the main demand is to immediately increase the minimum charge while the drivers also want both Ola and Uber to stop adding new cars and end ride-share services.
In an email response, an Uber spokesperson said, "A small group of people are disrupting the Uber service in parts of Delhi, and there have been isolated reports of threats and intimidation. We are working hard to ensure reliable rides are available for everyone and we can keep the city moving. We call on authorities to ensure the safety of riders and drivers." An email query sent to Ola did not elicit a response at the time of writing this report.
Last month, drivers of the taxi aggregators went on a five-day strike in Hyderabad and two weeks ago, a similar strike was organised in Bangalore.

The drivers allege that their incomes have drastically reduced in recent months as the taxi-hailing firms continue to acquire more cabs. The drivers across the metros are demanding that new registrations be stopped as they are finding it hard to generate any meaningful business.
App-based taxi providers operate a car-leasing programme that allows drivers to run a car on lease and earn Rs 60,000-70,000 per month. Hundreds of new drivers were on-boarded for this recently.
However, as the number grew, the existing drivers find it difficult to secure enough bookings and their incomes have drastically fallen.

In November, drivers of Ola and Uber staged a 36-hour-long strike in Guwahati to protest against falling incomes. According to a report by news agency ANI, around 12,000 cabs were off the road in the city during the protest. They also alleged that drivers who take cars on lease do not have to comply with the 'minimum business guarantee' agreement, which significantly reduces their cost of operations, while drivers who attach their cars directly to the taxi-hailing firms do not enjoy that benefit.
On December 28, drivers of cab-hailing companies staged a protest at the Kempegowda International Airport in Bangalore against the flat rates charged by these companies.
In July this year, a group of Ola drivers in Mysore called for a three-day-long strike against alleged exploitation by the firm, according to a report in The Hindu. Another report in the same newspaper said drivers of Ola and Uber in Kochi planned an indefinite strike demanding revision of wages and employment guarantee.

There were also reports of drivers in Delhi-NCR protesting against non-payment of incentives and other expenses by Ola and Uber.
---