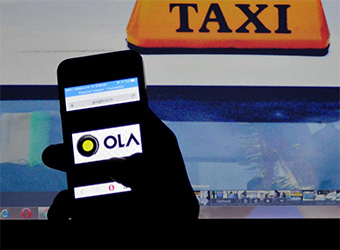 The agitation by Uber and Ola drivers demanding better incentives got out of control in the national capital on Monday, with protesters gathering around Ola's offices in the city.
A person aware of the development told Techcircle that after protests flared up at one of its offices, the cab-hailing company, in a pre-emptive move, ensured that its staff, across offices, left for home earlier than usual.
Ola did not respond to a query seeking details of the incident.
An Uber spokesperson said no such incident happened at its offices and they functioned normally. The spokesperson added that the company has moved court over protesting drivers forcibly stopping rides, and the court has passed a restraining order against driver unions, asking them not to stop any cabs from running.
Meanwhile, various drivers' associations and unions will come together to organise similar protests in Bangalore, Hyderabad and Chennai on February 15. Tanveer Pasha, president of Ola, TaxiForSure and Uber (OTU) Drivers' and Owners' Union, told Techcircle that the one-day strike will bring together auto, app-based cab and airport taxi drivers' unions, in addition to trade union bodies such as CITU and AITUC.
The unions are demanding employee-friendly policies and better pay structure from Uber and Ola, and immediate government intervention in the way cab aggregators operate. Another point of contention is the recent hike in taxi permit and driving licence fees.
"The taxi aggregators started operating here by promising attractive payments to drivers. Now they have gone back on their promises. This has caused severe issues for thousands of drivers. Drivers are struggling to pay back their monthly EMIs. This has to end," Pasha said.
Pasha said the association was talking to similar unions in other cities to organise an all-India indefinite strike that would cover all metros, including Delhi, Kolkata, Mumbai, Bangalore, Hyderabad and Chennai. He said a number of unions from these cities have held a primary meeting, and a second meeting has been planned to fix the date for the all-India strike.
Meanwhile, thousands of people across Delhi-NCR have been affected by the ongoing agitation that entered its fourth day on Monday. Apart from unavailability of cabs and skyrocketing rates, there have been instances of protesting drivers forcibly stopping rides and snatching away GPS devices. Without the device, a driver cannot accept ride requests.
"I did not drive on Saturday and Sunday. I need to get back to work. What is the point of me or the car staying idle? Hence I came on the road," Naveen, an Uber driver, told Techcircle. His GPS device was snatched by two people, who claimed they were "Uber employees". (Uber is a cab aggregator that does not employ drivers.)
"We were on a strike as Uber has taken away incentives. We feel the company should give us some incentive. Drivers are open to negotiations," Naveen added.
Several drivers in Noida are refusing to drive to Delhi, and are open to commute only within Noida.
"Crossing the border is very hard now. Yesterday, the striking drivers took away my device (GPS) and I was stranded with them for the whole day," said Ajay, another Uber driver.
Ola and Uber drivers had launched an indefinite strike in Delhi and surrounding areas on Friday to protest against the unfriendly policies of their employers. Last month, drivers of the taxi aggregators went on a five-day strike in Hyderabad and, two weeks ago, a similar strike was organised in Bangalore, with drivers echoing the same demands--better incentives and more bookings. The drivers allege that their incomes have drastically reduced in recent months as the taxi-hailing firms continue to acquire more cabs.
The protesters are also demanding shorter work hours, accident insurance and an increase in the minimum charge of Rs 6 per kilometre.
App-based taxi providers operate a car-leasing programme that allows drivers to run a car on lease and earn Rs 60,000-70,000 per month. Hundreds of new drivers were on-boarded for this recently. However, as the numbers grow, existing drivers are finding it difficult to secure enough bookings and their incomes.
In November, drivers of Ola and Uber staged a 36-hour-long strike in Guwahati to protest against falling incomes. According to a report by news agency ANI, around 12,000 cabs were off the road in the city during the protest.
On December 28, drivers of cab-hailing companies staged a protest at the Kempegowda International Airport in Bangalore against the flat rates charged by these companies.
In July this year, a group of Ola drivers in Mysore called for a three-day-long strike against alleged exploitation by the firm, according to a report in The Hindu. Another report in the same newspaper said drivers of Ola and Uber in Kochi planned an indefinite strike demanding revision of wages and employment guarantee.
---