Is Flipkart clawing back in the game against Amazon?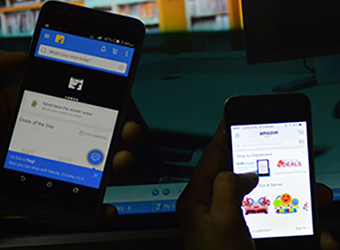 In early signs of a reversal in fortunes, Flipkart has outrun rival Amazon India in gross sales in two consecutive months, after trouncing the US-based ecommerce company with its Big Billion Day sales in October. The Indian ecommerce giant recently witnessed a top-level management rejig.
Citing four unnamed people familiar with the numbers of the two companies, a Mint report said Flipkart Internet Pvt. Ltd registered gross average sales of over Rs 2,600 crore for December and January, compared to Rs 2,300 clocked by Amazon Seller Services Pvt. Ltd. Flipkart's numbers do not include sales data from its fashion units Myntra and Jabong.
Myntra, had registered sales of over Rs 850 crore ($126 million) in January, that includes sales from its recently-acquired unit Jabong, the report said. Buoyed by its 'End of Reason Sale', the online fashion retailer hit an annual revenue run rate of $1.6 billion during the month. This is a positive indicator for the company, which is chasing an annual revenue target of $2 billion for 2017-18.

While it would be too early to attribute the impressive sales numbers to the recent management change, the significantly increased numbers would definitely give Flipkart a fresh lease of life in its efforts to maintain the leadership position and raise further rounds of funding. Flipkart's had raised its last fund in June 2015.
2016 was a tumultuous year for Flipkart with sharp and successive markdowns, constant CXO level churn, tough competition in the market and slow growth.
This had eventually forced Tiger Global, its major investor, to shed its advisory role and take direct control of the company with the appointment of its former executive Kalyan Krishnamurthy as CEO of the firm in early January.

It looks like Krishnamurthy, who is known for successfully executing strategies, is focusing on growing its existing market and business organically, while guarding its market share.
Amazon's confidence in its ability to wrest market share from home-grown Flipkart had received a boost in July and August 2016, when it edged past the market leader (excluding sales at Myntra and Jabong) in overall sales numbers.
"We saw growth of 124% in 2016 vs 2015. We believe we are India's largest and fastest growing ecommerce marketplace and are growing ahead of the industry. We continued to see this momentum in January and Amazon.in's first Great Indian Sale in January 2017 set new benchmarks in daily units, showing 200% growth over a normal business day. One out of two orders were placed by Prime members. We offered the largest online product selection in India of over 100 million products. Our efforts towards creating a robust eco-system for the small business have resulted in about 150K sellers on our platform, growing 160% YoY," an Amazon spokesperson had said.

However, the Bengaluru-based Indian unicorn made a strong come back when it sold 15.5 million units at its last Big Billion Days sale, beating Amazon's 15 million units in its five-day Great Indian Festival.
The current year is expected to witness a fierce battle in the Indian ecommerce sector as Amazon, with its mammoth investment plans, is expected to fight with all its might to lure more customers from Flipkart.
"The direct fight between Flipkart and Amazon will take an aggressive path in 2017. Till now, Amazon had been taking the share of players other than Flipkart. As of now, Flipkart is holding on to the market share in categories like smartphone, fashion and electronics. Amazon will fight hard for these categories using Amazon Prime along with expansion in categories like grocery. For Flipkart it is essential that it does not lose share in its key categories for raising the next round of funding. But we have to wait for a few more months to say anything about the change in market shares in 2017," Satish Meena, analyst at Forrester Research, said.

The promising numbers, however, show a refreshingly steely resolve at Flipkart. "As a policy, we do not comment on sales numbers. However, as the market leader, we continue to grow the ecommerce market in India through India-centric innovations and by continuously improving customer experience. We are focused on delighting our customers across the length and breadth of the country by bringing the best selection of quality brands and products at affordable price points," a Flipkart spokesperson said in an email response to Techcircle queries.
Sanchit Vir Gogia, chief analyst at Greyhound Research, said it is too early to expect a result from the recent management change. "I think it's too early to tell. The numbers are coming from what I would call a 'happy sales' month and I wouldn't form a yearly judgement on the back of these numbers. This is the first in many changes that has to happen for Flipkart to create a clear long-standing leadership position. We would need such strong numbers for about two to three quarters to see real change. So, at present, I would see it as a one-off factor and no more," he said.
---