Uber, Ola clock half a billion rides in 2016, says RedSeer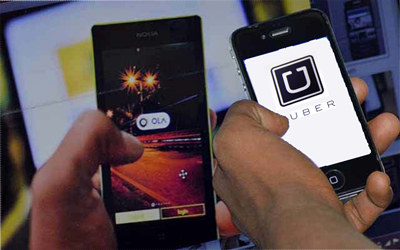 Ride-hailing companies Uber and Ola carried out approximately 500 million rides in 2016, according to a report by RedSeer Management Consulting, a Bangalore-based consultancy firm.
The number of rides by ANI Technologies Pvt Ltd-backed Ola, and US-based Uber Technologies Inc's India subsidiary Uber, is up almost 300% from 130 million in 2015.
"2016 was a challenging year for the industry from an external perspective, with multiple regulatory challenges and supply side disruptions, but consistently growing demand from customers enabled the industry to tackle all these challenges successfully and emerge successful at the end of the year compared to the beginning," the RedSeer report said. The industry had witnessed 9% growth, month-on-month, in February last year.

The report noted that the number of rides remained largely unaffected following the government's move to suck out old high-value currency notes from the Indian economy in November, but non-cash transactions increased by 20% towards the end of the year.
An email sent to Ola, seeking comments on the report, did not elicit a response.
A Uber spokesperson, in an emailed response, said: "We are delighted to see how ridesharing is benefiting riders, drivers and cities across India."

The RedSeer report also said that cheaper rides at Rs 6 per km helped increase the online taxi aggregators' customer base. "The adoption of these services picked up in a lot of smaller cities as well. In the beginning of last year, Ola was leading the market in a big way. But from there on it has been losing market share to Uber," Anil Kumar, chief executive officer of RedSeer told Techcircle, adding that Uber is putting in a lot of money to acquire customers by giving lower rates on rides and bigger incentives to drivers compared to Ola.
He also hinted that Uber had an edge over its rival in servicing customers. "But (with regards to) the overall satisfaction of drivers and customers, Ola has pulled up. Now, it is very good."
However, since the beginning of 2017, both Ola and Uber have been under stress following protests by drivers against falling rates of incentives, besides the Karnataka government has imposed a fresh regulatory hurdle for the two app-based cab aggregators.

Drivers in Bangalore are of the opinion that Ola and Uber should adhere to the On-Demand Transportation Technology Aggregators Rules, 2016, of the Karnataka government, which has fixed taxi fares at Rs 19.50 per kilometre (for AC cabs) and Rs 14.50 per kilometre for (non-AC cabs).
---