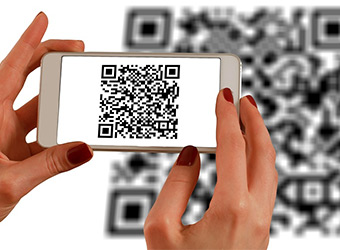 Following its demonetisation move on November 8 last year, the government has taken a series of steps towards a less-cash, digital economy, notable among them being the Unified Payments Interface (UPI) and the BHIM app. With the launch of BharatQR code, the world's first interoperable payment acceptance solution, on Tuesday, it has tried to make payments a lot more seamless for buyers—they just need to "scan to pay" for transactions instead of swiping their credit/debit cards.
QR code, or quick response code, is a machine-readable matrix that includes digitally-encrypted information such as account details, which can be decoded with a smartphone camera. Though the system has been present in the country for a while, all payment networks currently work in isolation as each of them uses a different QR code.
But BharatQR code is interoperable, which means payment network companies Visa, MasterCard, RuPay and American Express have come together for it. Currently, American Express is in the final stage of integration and not yet live.
BharatQR eliminates the need to scan different QR codes offered by different payment networks—merchants will need to display one QR code at the storefront or through the acquiring bank's mobile application. BharatQR will also eliminate the need to install point-of-sale (PoS) machines as merchants can receive money using the common QR code.
Leading banks, including Axis Bank, Bank of Baroda, Bank of India, Citi Union Bank, Development Credit Bank, Karur Vysya Bank, HDFC Bank, ICICI Bank, IDBI Bank, RBL Bank, State Bank of India, Union Bank of India, Vijaya Bank and Yes Bank, are already operationally ready to deploy BharatQR code, according to a joint press release.
BharatQR code works on both Android and iOS platforms, though not on Windows.
Experts Techcircle spoke to were of the view that BharatQR launch was Visa and Mastercard's attempt to jump onto the digitisation bandwagon.
"I see the rollout of BharatQR as Visa, Mastercard and Rupay's attempt at sharing the digitisation of payments pie. The BHIM app and UPI-based payments don't require any card, so card-based infrastructure is useless for them. On the other hand, the entire PoS based mechanism that Visa and Mastercard rely on is card based—and is very costly. With the government's push for BHIM and UPI, the whole PoS infrastructure was anyway heading towards redundancy. With this, Visa and Mastercard were on the verge of losing their precious merchant discount rate (MDR)," said Sanjay Khan Nagra, senior associate at Khaitan & Co, a law firm.
"If I have to put my bet on one of these, my bet will be UPI for the simple reason that it is cheaper and easier for both customers and merchants and already has a huge user base. Second, there is no MDR. I guess there will be some sort of transaction-based cost, but I don't think it will be as expensive as the MDR levied by Visa or Mastercard. I see this as an attempt to revive something which is doomed to fail (or be a runner-up at best)," he added.
In November 2016, Mastercard announced the Indian launch of Masterpass QR, an interoperable QR mobile payments solution.
Earlier this week, several media reports said that digital wallet firm Paytm, operated by One97 Communications Ltd, was planning to invest Rs 600 crore ($89 million) to develop a QR code-based payments solution.
---